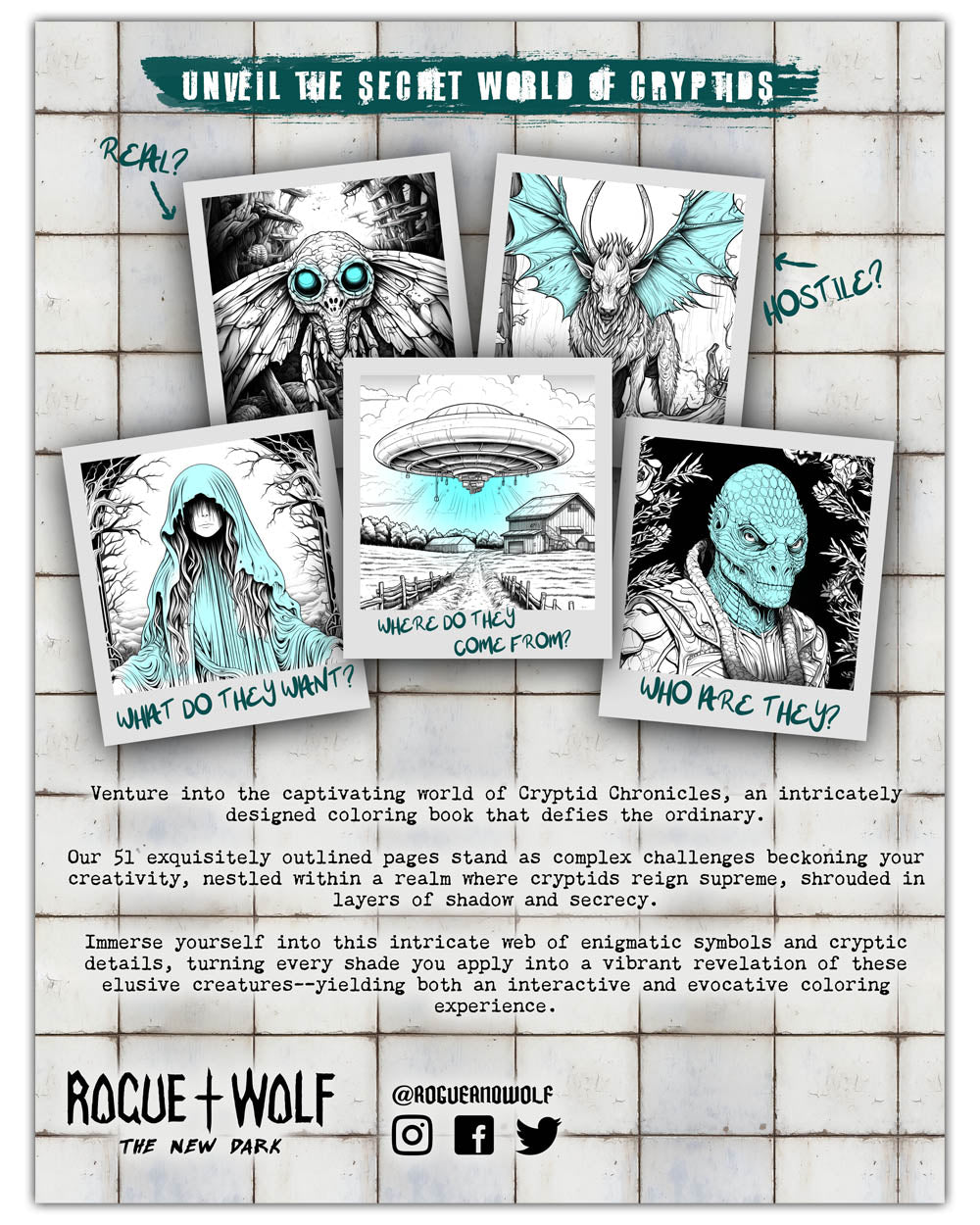 Cryptid Chronicles: An Enigmatic Coloring Book for Modern Conspiracy Theorists
---
Printed on-demand by Amazon
Very fast printing and shipped from close to you!
Go to your nearest Amazon website and order directly.
Note: Price shown above is approximate due to currency exchange fluctuations.
Amazon.com
Amazon.co.uk
Amazon.de
Amazon.fr
Amazon.es
Amazon.it
Amazon.nl
Amazon.pl
Amazon.se
Amazon.co.jp
Amazon.ca
Amazon.com.au
The Shadowed Realms of Cryptid Chronicles
Immerse yourself in the enigmatic realms of "Cryptid Chronicles: An Enigmatic Coloring Book for Modern Conspiracy Theorists." Dive deep into 51 unique artworks that bridge the chasm between mythology and conspiracy theory, leading you into the world of cryptozoology, UFOs, aliens, and the unexplained.
Whispers of Legends and The Unexplained
Awaken the cryptozoologist within as you encounter mythical beasts, UFO landing sites, and eerie landscapes. Experience a monstrous manual rich with legends, folk tales, and mysterious occurrences—each page an invitation to decode cryptid art, explore tales of UAP sightings, and bear witness to the enigmatic. From the intricate details of occult symbols to witchcraft and paganism, this book weaves a captivating story for your coloring journey.
The Chronicles: Journals from the Unknown
Alongside each masterfully crafted illustration, you'll find not just a name, but a story—an intimate recount from the journal of a seasoned investigator. As your coloring brings life to the cryptids, the accompanying narrative positions you right at the heart of their legend. Discover the known attributes, myths, and whispered tales surrounding these enigmatic entities. Let descriptions of colors and moods guide your palette or inspire your unique interpretation. Here, art and narrative entwine, rendering each page as a journey into the heart of mystery.
The Art of Mindfulness and Creativity
There's a profound serenity in coloring—an ageless pastime that offers a therapeutic escape for anxious minds. It's a creativity booster, perfect for those seeking a serene pastime for anxiety relief and ADHD. The synergy between fantasy art and mindfulness crafts a tranquil realm for people of all ages to explore, alleviating stress and fueling imagination.
Designed for An Optimal Coloring Experience
At 8.5" X 11", our book ensures ample space for your artistic endeavors. And we understand the importance of preserving each masterpiece—hence, the back side of every art page is printed black to mitigate color bleeding. This ensures that every cryptid remains as enigmatic as intended, free from unintended smears or transparencies.
Coloring Craftsmanship: Tips and Techniques
To prevent bleed-through, opt for colored pencils or high-quality gel pens. Test new markers or watercolors on a separate paper before diving into your cryptid chronicle. Embrace the intricate images and harness them as guides for shading—lending depth and life to the monstrous and the mythical alike.
Embark on Your Cryptic Adventure Now
Why wait? Delve into a realm where legends whisper and cryptids roam. Whether it's a Halloween gift, a humorous escape for grown-ups, or a source of dreamlike patterns for the curious inner artist—this book beckons. And if one cryptic chronicle isn't enough, explore our expansive range for more dark wonders.
Join Our Enigmatic Journey
We cherish the community of colorists and enthusiasts. Once your mythical beasts and legends come alive with color, share your masterpieces with us. Connect with our brand, immerse in our stories, and let's revel in the world of cryptids together.
In the mystical realm of Rogue + Wolf, we craft this precious treasure on-demand. This magical approach takes a touch longer, like the careful concoction of a powerful potion. But don't fret, darklings! This extra spell-casting time is offset as we send your order from a location near you - less wait for you, lower shipping costs, less pollution.

Choosing to create on demand, we avoid the wasteful cycle of overproduction typical of the fashion industry. No excess, no surplus, just the ethereal piece you desired, crafted specifically for you. This way, we not only reduce waste but also cut down on storage and transportation - a small yet significant step towards preserving our environment.

So, thank you, beautiful soul, for making conscious choices and joining us on this magical journey. Each order you place is a statement for a more sustainable, thoughtful world. Let's continue to change the game together, one enchanting piece at a time!
Read more about our On-Demand Odyssey here.