Devilishly Decadent Drinks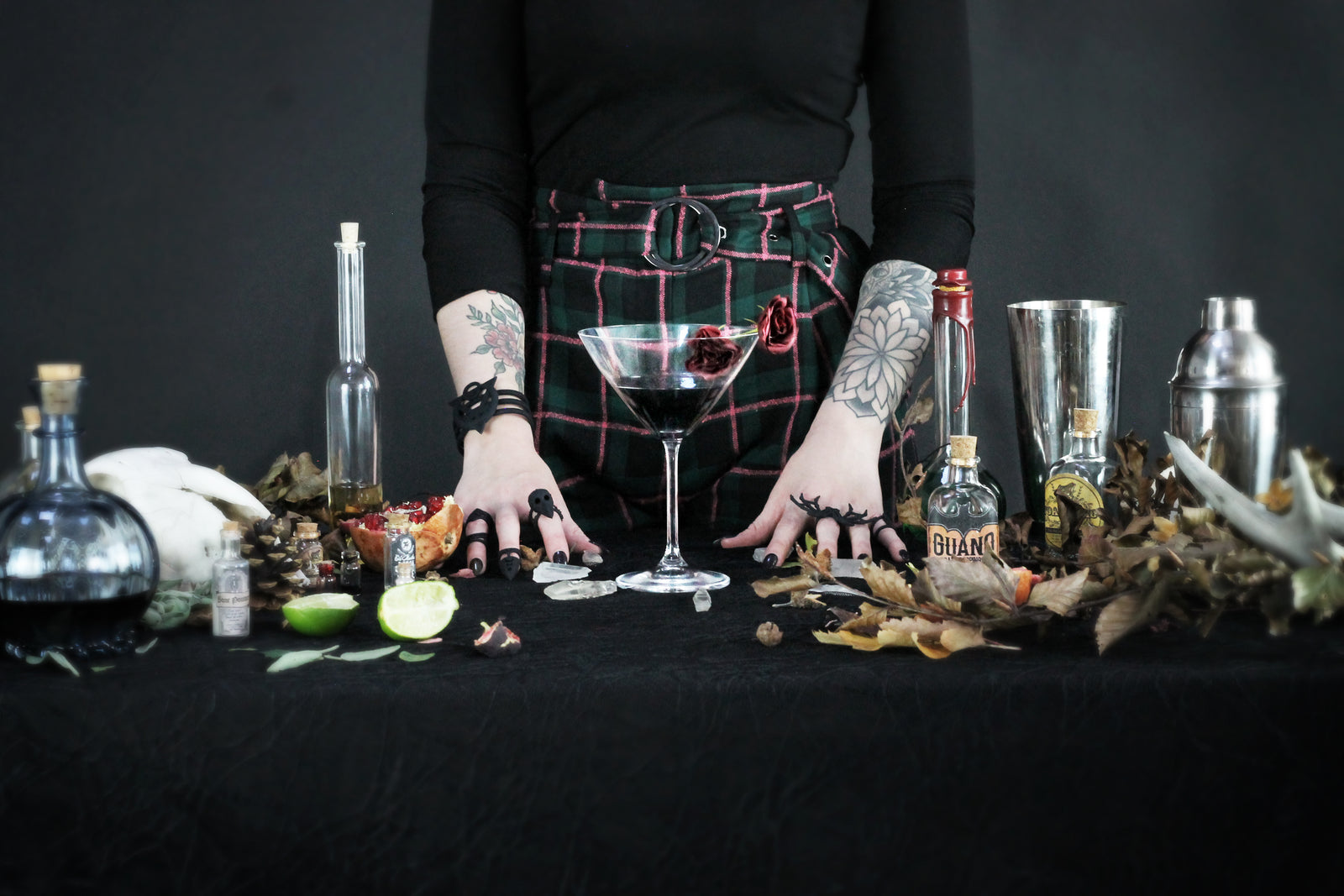 Hey Coven! 🎃

As part of our pre-Halloween ritual we've been getting creative around the cauldron. We've been concocting some devilish potions to lift your spirits, and we'd like to share them with you now. But a word of caution we must utter... Be wary, and don't imbibe too much of these magical elixirs, otherwise unruly delirium and pains of the head may follow! ☠️



The Witch's Heart
Straight from Hell with a magical shimmering flare! To recreate this resplendent libation you'll need the following:


1.5 oz of Apple Brandy or Apple Vodka
3 oz of Shimmering Blackberry Liqueur, chilled
1 tsp grenadine
- Place the apple brandy/vodka and the shimmering blackberry liqueur together in a shaker. Add an ice cube then shake for a few seconds to chill.
- Strain the mixture into a martini glass, topping up with more shimmering liqueur if you so desire.
- Pour the grenadine into drink to create a bleeding effect.
- Serve in a martini glass!

Zombie Shooter
A fickle brew to wake the dead. For this you will need:


1.25 oz Vodka
A dash of Fresh Squeezed Lime Juice
0.75 oz Baileys Irish Cream (we used vegan Baileys)
Grenadine (optional)
- Place vodka and a squeeze of lime juice into the shaker with ice, then shake for 20 seconds.
- Strain the mix into a shot glass, then very carefully trickle the Baileys into the shot over the back of a spoon.
- Add grenadine if you so desire to give a bloody effect.


Black Magic
The secret to our success! For this addictive substance you'll need:


2.5 oz Black Vodka
0.75 oz Fresh Squeezed Lime Juice
0.5 ox Vanilla Syrup
Edible Pearl Dust
- Place the vodka, lime juice and syrup into a cocktail shaker, then fill with ice till you reach the liquid line. Shake for 30 seconds.
- Add a dash of pearl dust to the bottom of a martini glass and strain the drink into the glass. Add more pearl dust if you wish and stir with a bar spoon to wake the magic.

The Poisoned Apple
A powerful spell for the traditional witch. To recreate this intoxicating classic you'll need the following:


2 oz Apple Cider
2 oz Tequila
1 oz Pomegranate Juice
- Combine the cider, tequila and the pomegranate juice in the shaker with some ice and shake for 20 seconds.
- Strain into a martini glass to serve!

We hope you find these bewitching tonics to be worthy offerings to your gods, or guests... Feel free to adjust the measurements to your taste (but don't come wailing to us if your spells don't work). You can also add a few chips of dry ice to The Witch's Heart and The Poisoned Apple if you like to give them an even more ethereal mystical feel. But for the love of all that is good and unholy, we cannot stress enough, do NOT drink from the vessel until all of the dry ice has melted!

If you'd like to see more, head over to our Instagram to see our video tutorials!


Remember Witches, if you try any of these out, we wanna hear about it! Leave us a comment below, or get in touch with us on Instagram
@rogueandwolf
 👻
---