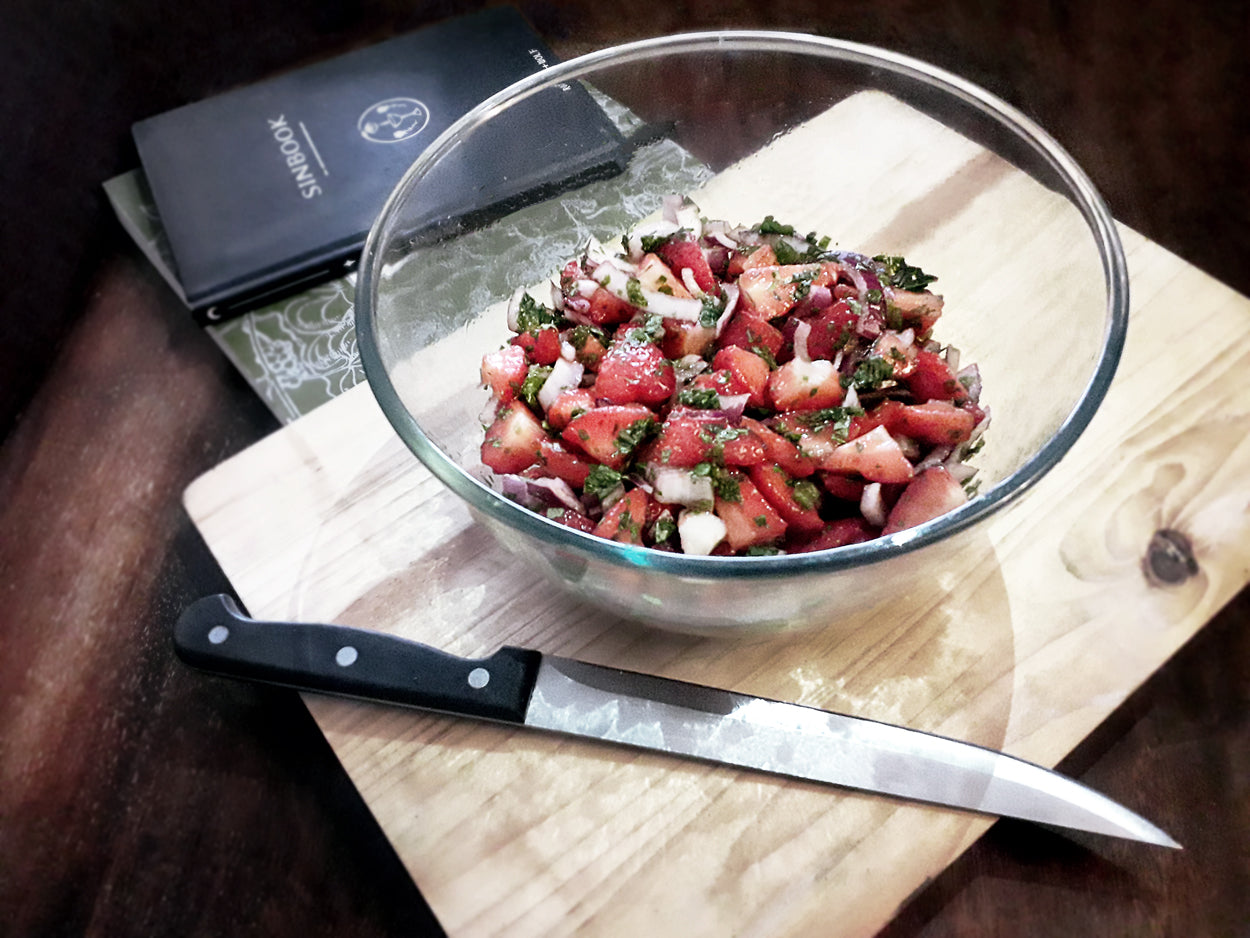 Hey Witches!


This Friday is Litha or the Summer Solstice, i.e. the longest day of the year! It is the time of year when life is at it's peak. On this day we should celebrate life's abundance and the life-giving power of the sun, and take advantage of the long daylight hours that are now set to start declining once again. A great way to celebrate Litha is with a simple picnic - venture out somewhere green, with a veritable feast of seasonal treats in hand, and take in the lush surroundings as you enjoy the carnal pleasure that is scoffing lots of food! With that said, allow us to share with you some of the treats we recently made that would be perfect for such an occasion!


Strawberry Salsa
We nicked this recipe from
Plant-Based Cooking
, and let me tell you, it's delicious! The perfect blend of sweet and spicy - the contrast in flavours really is like a party in your mouth! And best of all, it's super simple to make!
You'll need:
2 cups Strawberries, diced
1/3 cup Red Onion, diced
1/2 a small Jalapeño, seeded and diced
1/4 cup fresh Coriander
1/4 cup fresh Mint
Zest & juice of 1 medium Lime
Salt & Pepper to taste
Literally mix all the ingredients together in a bowl and Bob's your uncle!
Omnomnom!


Strawberries are one of my favourite things about Summer, so when I bought them to make the salsa I made sure I bought enough to have spare! You can't beat a bowl of fresh strawberries. Or if you want to be really decadent, cover them in melted dark chocolate (lots of dairy-free varieties available!) and leave to set for an hour or two in the fridge.


Another summer favourite of mine is cherries, which leads me (albeit rather loosely) to my next picnic perfect treat:


Ginger Munch
This is so unbelievably tasty (if you have sweet tooth) and super easy to make! I'm including it in this Solstice Treats blog because it has cherries in it, but they're glacé cherries, so there's really nothing seasonal about it, it's just delicious and I think you all deserve to know this heavenly recipe!


You'll need:
4oz Sugar
4oz Vegan Butter
4oz Dates
4oz glacé Cherries
1oz crystallised Ginger
3oz Rice Crispies

You want to start by melting the Butter and Sugar together in a large pan, on a gentle heat. Blitz the Dates, Cherries and Ginger in a food processor, and then when you've got a sticky syrupy mess you'll want to add that to the pan too. When it's all mixed well together, pop in your Rice Crispies and stir thoroughly, making sure they're all well coated. When you're happy that everything is thoroughly mixed, pop the mixture into a tray to cool. Gently press the mixture with the back of a wooden spoon or spatula to flatten it on top, but be careful not to crush the Rice Crispies! Stick it in the fridge until it's firmed and ready to cut into bit-sized pieces. Yum!
(A square or rectangular tray is better, I just didn't have one)


So there you have it: some quick and easy treats that will ensure your Litha picnic is full of flavour. Of course there are a million other things you could make - there are so many wonderful things in season this time of year, we encourage you to go out and explore more recipes! And if you know of any that you think we'd like, let us know below! We love trying new things, especially if it's food!


Have a wonderful weekend and a Blessed Litha!
---
1 comment
---
---