NEW DROP! - Spells & Potions Tees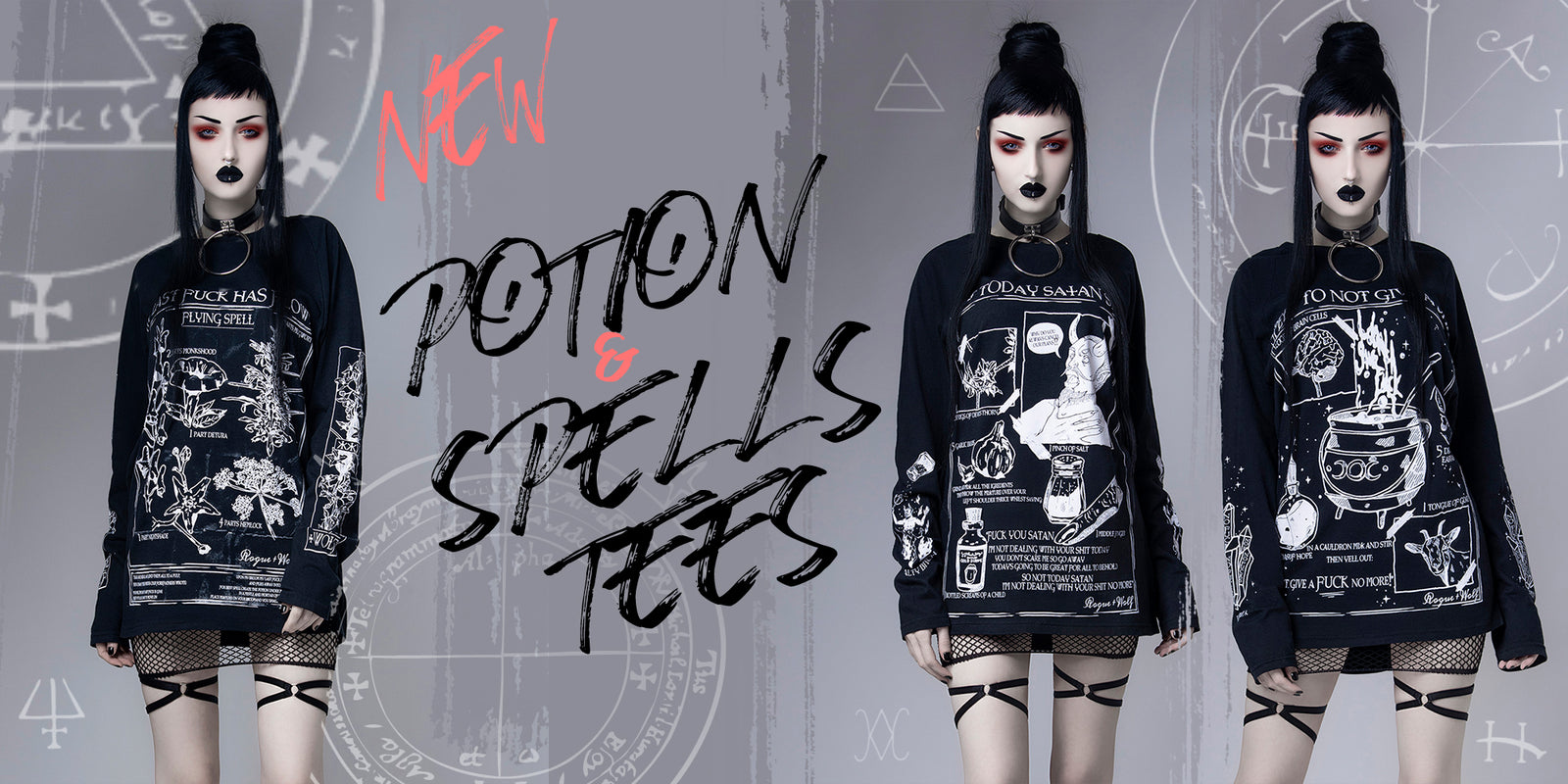 Long Forgotten, Centuries Old
Feast Your Eyes On Ancient Scrolls
Explore The Texts With Fearless Soul
And Power Is Yours To Behold
Check out our New Collection of long-sleeve unisex tees bearing Spell pages from our very own Book Of Shadows...



My Last F*ck Has Flown Flying Spell

Take leave of your worries literally by flying off into the night with this ancient herbal remedy.
You'll Need:
2 Parts Monkshood
3 Parts Mugwort
1 Part Detura
4 Parts Hemlock
1 Part Nightshade
Tear And Break And Grind Them All To A Pulp, Then Chant These Words Our Forefathers Wrote:
"I'm Done, I'm Done, My Last Fuck Has Flown,
I Need To Leave, I Have To Move On,
Upon My Broom My Last Fuck Doth Climb,
And Flies Away Into The Night"
For Best Spell Create The Potion Under Moonlight, With A Pestle And Mortar Of Pure White.
Place The Mixture Upon Your Broom And You Shall Take Flight.
Not Today Satan Spell
Stick it to the man downstairs with this powerful concoction of self-respect and fabulousness; pungent enough to make the Devil's eyes water!
You'll need:
2 Sprigs Devils Thorn
1 Pinch Of Salt
5 Garlic Bulbs
1 Middle Finger
1 Bottled Screams Of Child
Grind And Mix All The Ingredients, Then Throw The Mixture Thrice Over Your Left Shoulder Whilst Saying:


"Fuck You Satan,
I'm Not Dealing With Your Shit Today,
You Don't Scare Me So Go Away,
Today's Going To Be Great For All To Behold,
So Not Today Satan,
I'm Not Dealing With Your Shit No More"
Dramatic Exit Spell


The best way to get out of any situation, for when you want 0% social interaction but 100% drama.
You'll Need:
1 Wing Of Bat
1 Fang Of Dracula
10000 Moths
1 Cup Of Beetlejuice
Mix All Together And Drink When In Need, Then Chant These Words For The Spell To Proceed:


"Escape This Prison, Escape This Place,
Please Spirits Deliver Me From Grace,
Give Me Wings So That I May Fly,
Make Me Disappear Into The Night,
I Don't Want To Be Here, I Don't Want To Talk,
Make Me 1000 Bats So I Can Fuck Off"
Apathy Spell


When mindfulness and meditation just won't cut it and you need a break from the day-to-day fuckery of life, whip up this mentally soothing balsam.
You'll Need:
1 Scoop Of Brain Cells
5 Drops Of Earwax
A Dash Of Hope
1 Tongue Of Goat
In A Cauldron Mix And Stir,
Then Yell Out: "I Don't Give A Fuck No More!"
Kill Your Enemies Potion


For the eradication of those who seek to destroy you, mix up this highly toxic blend of nature's deadliest creations.
You'll Need:
5 Deadly Nightshade Berries
1 Tongue Of Snake
2 Hairs Of A Tarantula
1 Tail Of A Rat
Mix And Grind, Bash And Mash,
In The Pale Moonlight
Just One Drop And See Your Foes Disappear In Delight



Hex your Ex Spell


Get your revenge the old-fashioned way with a good old curse! Grab your ingredients and gather round the cauldron with yer crew to illicit some serious vengeance.
You'll Need:
1 Cup Of Hate
5 Bee Stingers
1 Decaying Heart Of A Pig
1 Wasps Nest
3 Drops Of Their Blood
2 Tsp. Saliva
A Dash Of Animosity
Bubble And Boil With All Your Rage, In The Means To Make Them Pay, Utter These Words And Your Spell Will Be Underway:


"I Curse You For All You Have Done,
You Turned Out To Be Nothing But Scum,
In The Beginning Things Were Great,
But Now You Must Pay For Things To Date,
Heed My Word And Listen Well,
No One Will Love You For Time To Tell"


Will you pick just one Spell or yield untold Power with the whole Collection?
Click here to Shop the Collection.
---