Sublime Sketches & Intricate Artwork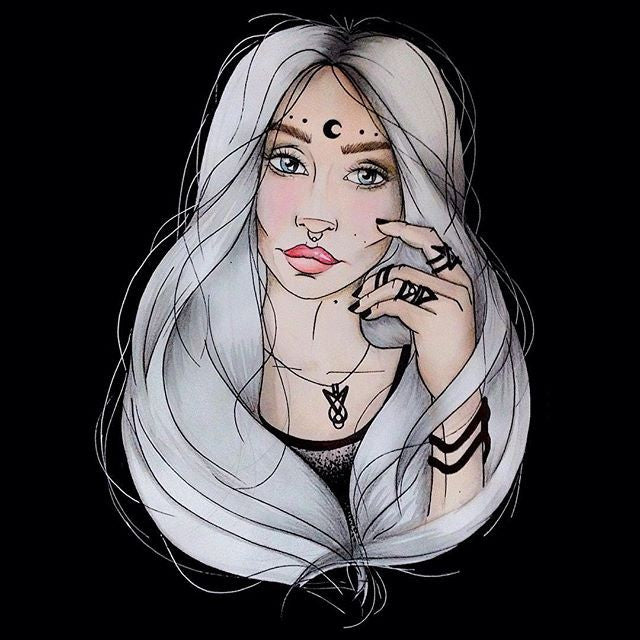 Catching up with even more incredible illustrations from our Witchdolls and Warlocks! Every week show stopper pieces of artwork pop up in our feed and we really can't get enough! This week we have picked another 5 of our favourites from the past couple of weeks! Keep em' coming cult! 
Capturing every feature from cheekbones to fingers, @filip_jart. This artist has envisioned @theproserpina as an enchanted raven princess in her ring of 'Lust'.
Another incredible drawing from @mariasometimes of @kinashen summoning snakes in her 'Eclipse' Necklace. Maria doesn't draw eyes in her art for a very true and inspiring reason, in her words ' until we stop focusing on the undeniable beauty of eyes, we'll always miss out on the equally mesmerising dance of the rest of our being'.
@abigail_larson creates her images using pencil, paint and Photoshop. These steps come together to create particularly creepy and medieval creatures that we just love! This witch looks ready to cast some spells in her 'Eclipse' and 'Chronos' necklaces. 
Talk about catching our eye! This vivid anime princess is the daughter of artist @aerobicsalmon. She is sporting a mystifying collection of matte blacks and has complete hair goals! 
I stumbled across this divine design when I was browsing through insta and we are over the moon we found it! @olgamantro is an 18 year old cute cat lady who creates insane portraits. This one is of our Gothqueen @wioleth wearing 'The Okkultist Collection'.
I can't explain the excitement I feel when I see a new spectacular piece of artwork from you guys! Can't wait to see more! 
❤️ Much Love ❤️ Lexi ❤️
---