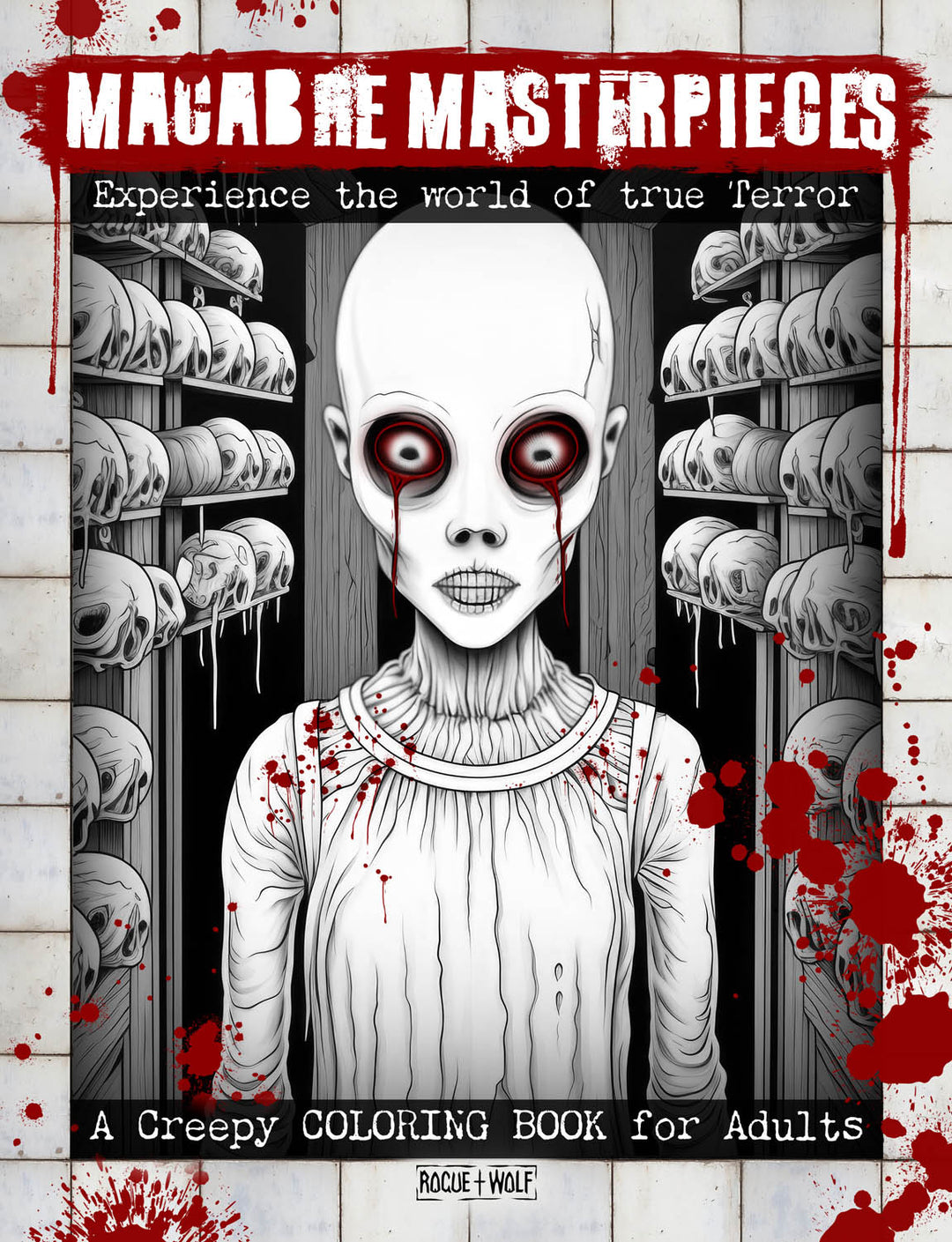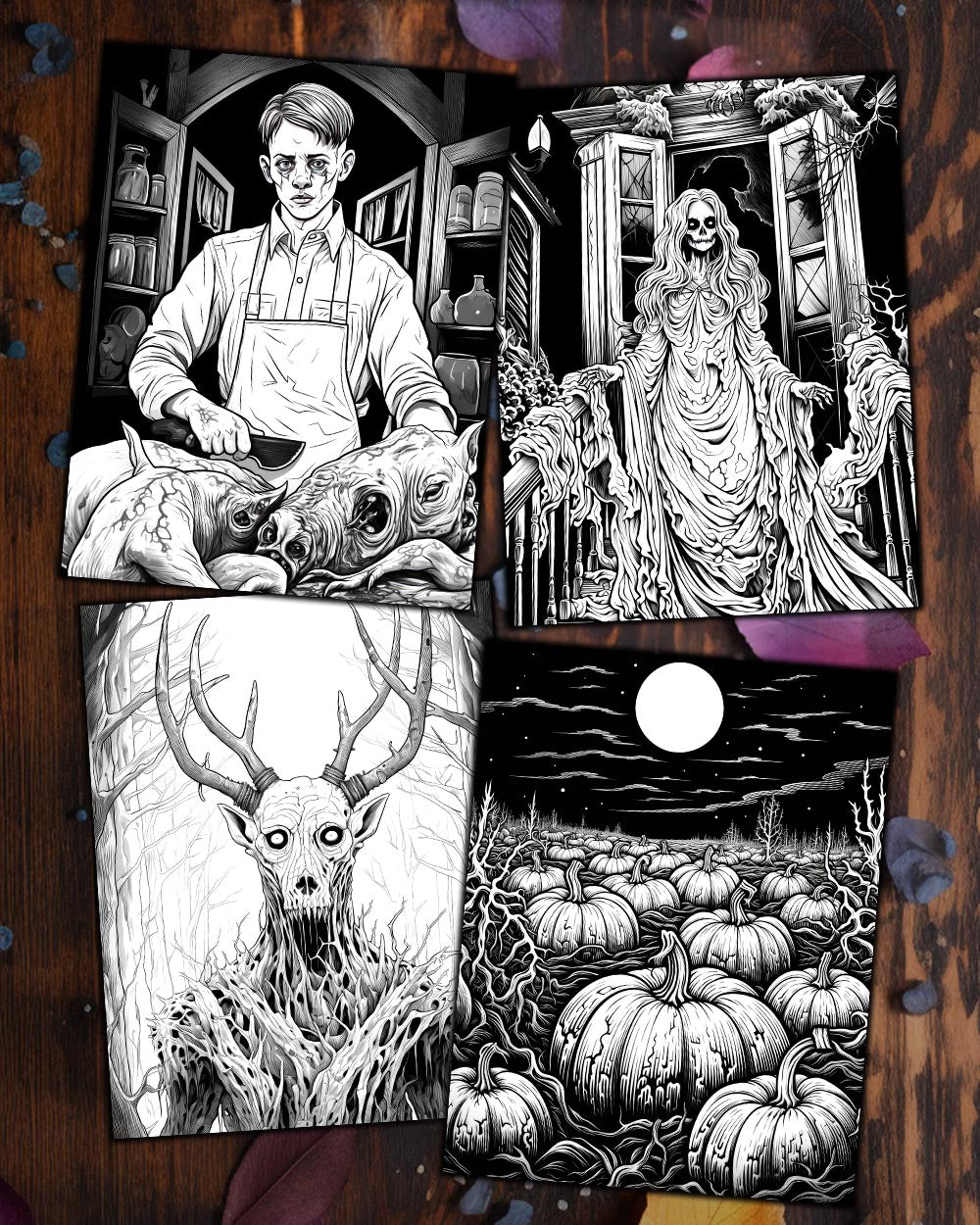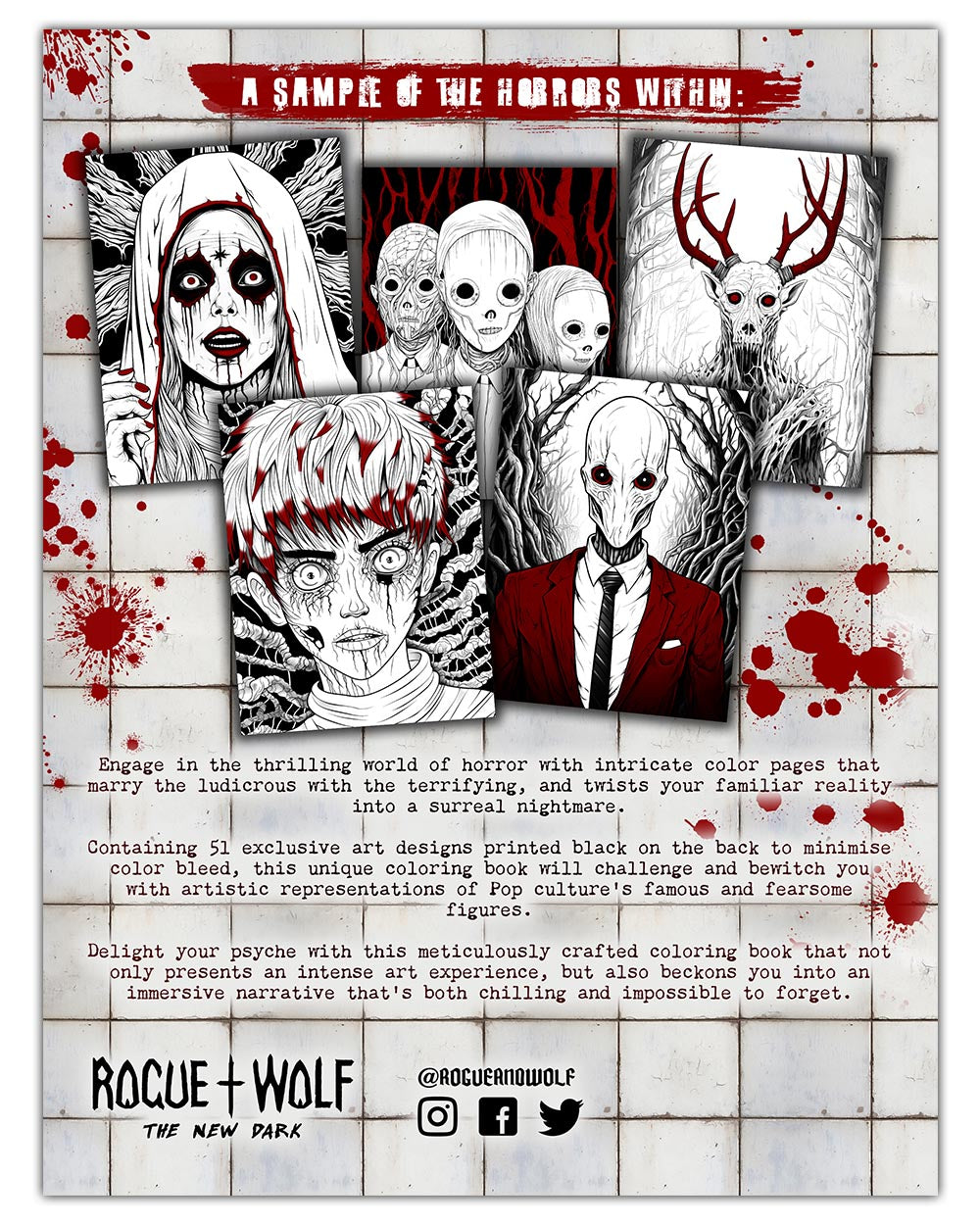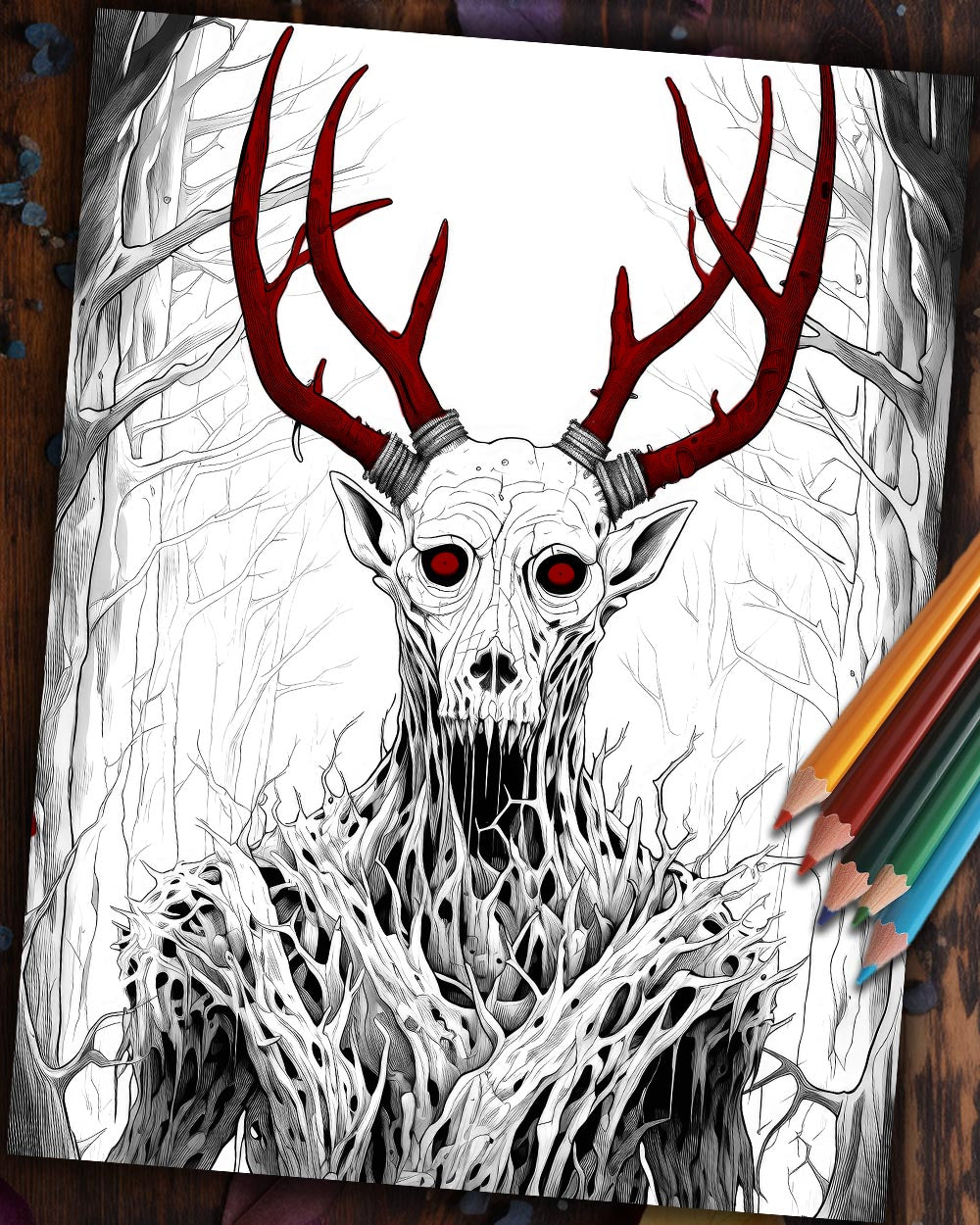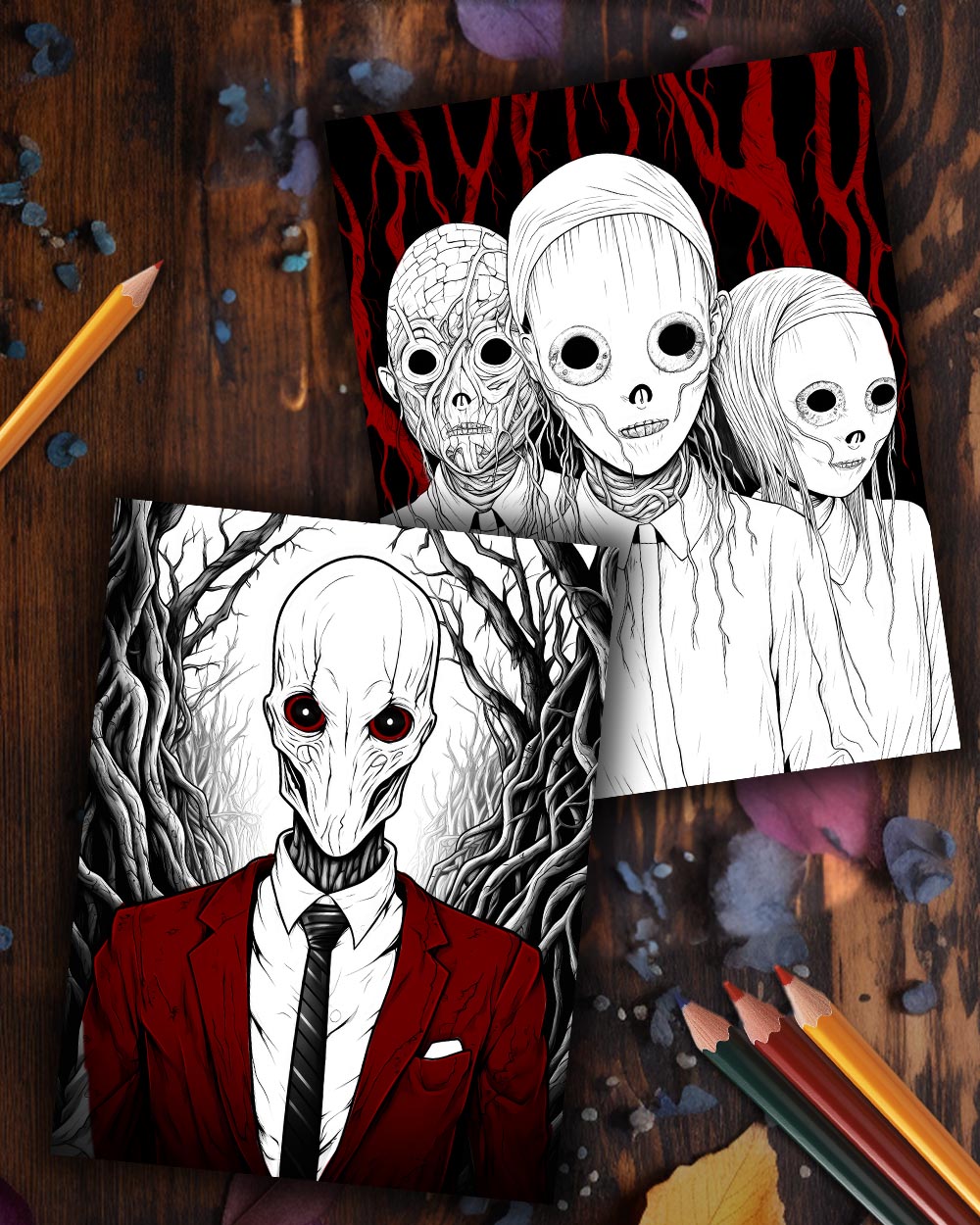 Macabre Masterpieces: A Horror Art Odyssey Coloring Book for Daring Adults
---
Printed on-demand by Amazon
Very fast printing and shipped from close to you!
Go to your nearest Amazon website and order directly.
Note: Price shown above is approximate due to currency exchange fluctuations.
Amazon.com
Amazon.co.uk
Amazon.de
Amazon.fr
Amazon.es
Amazon.it
Amazon.nl
Amazon.pl
Amazon.se
Amazon.co.jp
Amazon.ca
Amazon.com.au
Step into a Nightmarish Dreamscape.
Embrace the allure of the macabre with "Macabre Masterpieces: A Horror Art Odyssey Coloring Book for Daring Adults". Dive deep into a visually stimulating narrative of 51 hand-crafted, detailed pieces that pay homage to the chilling intricacies of horror art and modern culture horror characters.
Where the Grotesque Meets the Beautiful.
Discover Outwardly Lovecraftian cosmic horrors, elusive legends of cryptozoology, and fearsome figures that haunt the recesses of our pop culture. Get lost in surreal landscapes and characters, each piece a masterclass in the #RogueAndWolf blend of dark academia, goth, and the occult. With every line and pattern, experience an artistic escape, merging the serene pastime of coloring with the witchy, gothic fantasy that beckons your curious inner artist.
More Than Just Coloring—It's Therapy.
In this chaotic world, find solace in this unique coloring book. As a serene pastime for anxiety relief, this hobby not only captivates the mind but soothes it. Dive deep into dreamlike black line and grayscale images, transforming them with your touch, making it a motivational and inspirational pattern perfect for hobbyists looking for an anti-stress escape.
Designed with Passion and Precision.
Our 8.5" X 11" tome is more than just an artistic venture; it's a crafted experience. With the back of each of the 51 art pages printed black, we ensure your mediums stay true to your page, preventing any bleed-through and making sure your masterpiece remains pristine.
Maximize Your Artistic Expression.
To enjoy the richness of our intricate designs, we recommend using high-quality coloring pencils or gel pens. Avoid alcohol-based markers to prevent bleed-through. For added protection, place a sheet of paper behind the page you're coloring. Let your creativity run wild in this witchy, gothic fantasy realm.
Begin Your Horror Odyssey.
There's no better time than now. Unleash your inner artist and immerse yourself in the mesmerizing world of Macabre Masterpieces. Don't stop here; explore the captivating range of #RogueAndWolf books for a consistently thrilling coloring journey.
Join the #RogueAndWolf Coven.
Show off your colored masterpieces by tagging us using #RogueAndWolf. Dive deeper into our brand's story, follow our journey, and be a part of our uniquely witchcraft-infused community. 🌙✨
In the mystical realm of Rogue + Wolf, we craft this precious treasure on-demand. This magical approach takes a touch longer, like the careful concoction of a powerful potion. But don't fret, darklings! This extra spell-casting time is offset as we send your order from a location near you - less wait for you, lower shipping costs, less pollution.

Choosing to create on demand, we avoid the wasteful cycle of overproduction typical of the fashion industry. No excess, no surplus, just the ethereal piece you desired, crafted specifically for you. This way, we not only reduce waste but also cut down on storage and transportation - a small yet significant step towards preserving our environment.

So, thank you, beautiful soul, for making conscious choices and joining us on this magical journey. Each order you place is a statement for a more sustainable, thoughtful world. Let's continue to change the game together, one enchanting piece at a time!
Read more about our On-Demand Odyssey here.