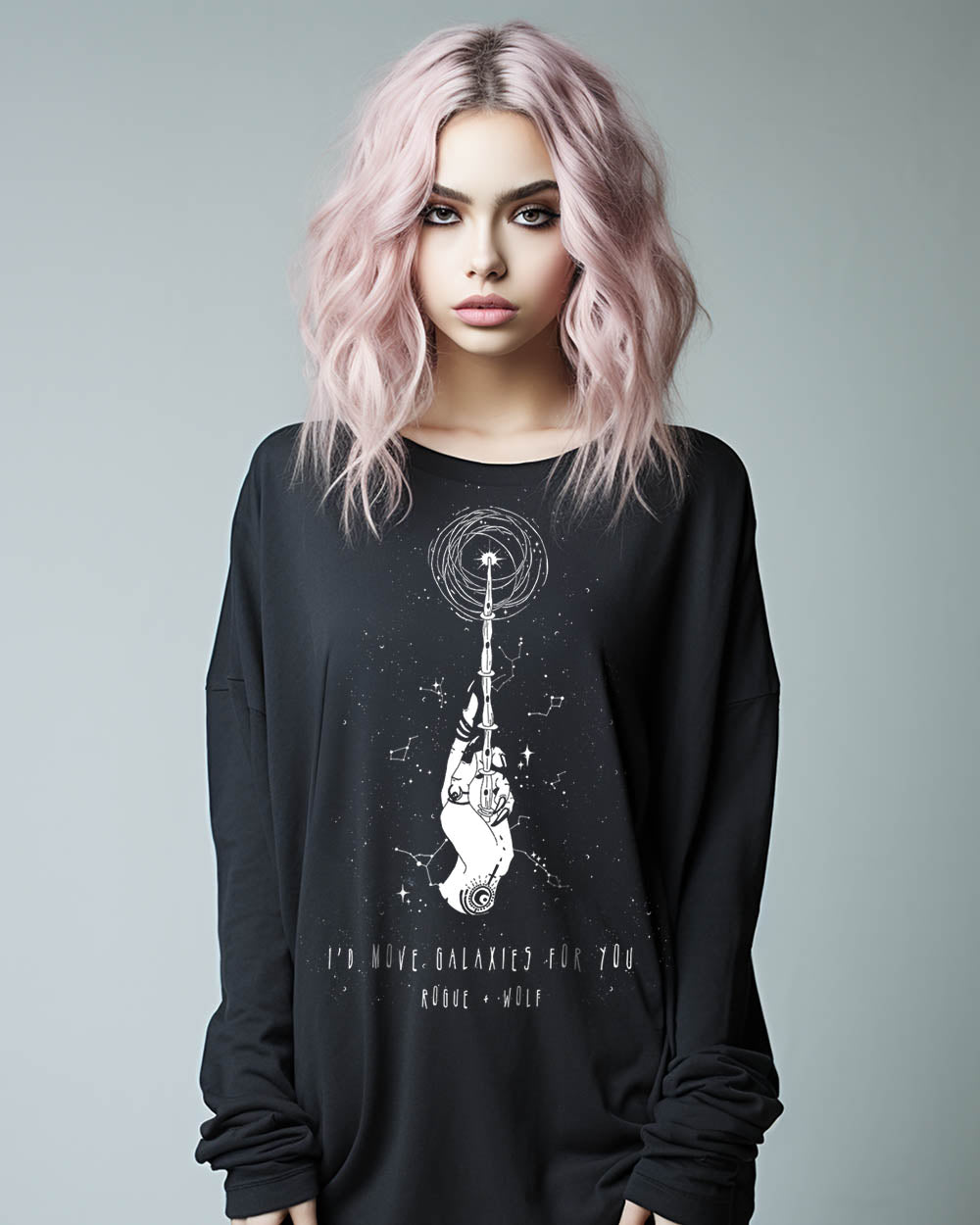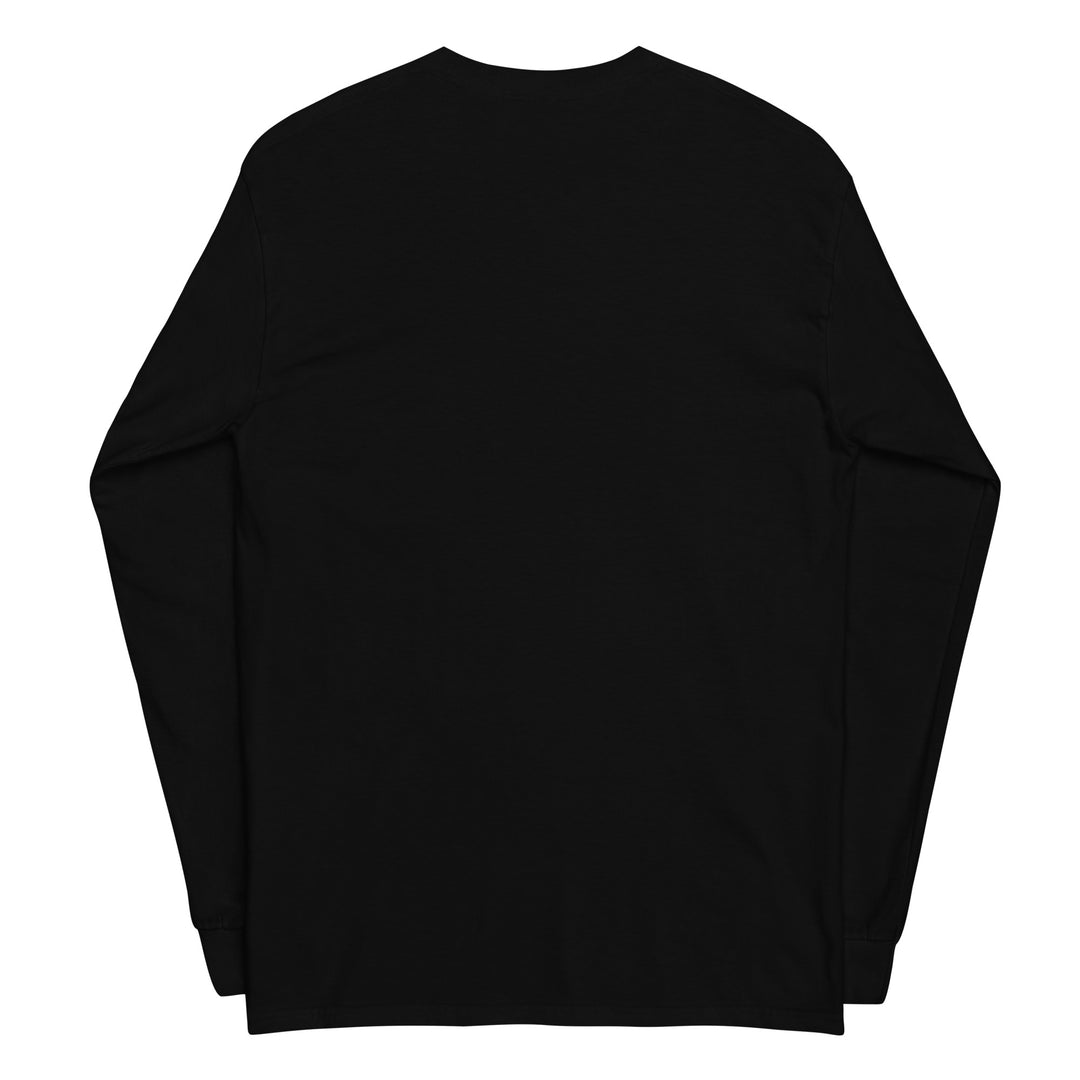 Cosmic Devotion Long Sleeve Tee - Unisex & Vegan Alt Goth Witchy Top Grunge Aesthetic Fashion Cool Gothic gifts
---
We are transparent with real reviews on all products. More than just that, we use your reviews as an opportunity to learn and improve our quality or fix our mistakes.
Unlock the Cosmos with the Cosmic Devotion Long Sleeve Tee
Unleash the energies of the ethereal realms with Rogue + Wolf's Cosmic Devotion Long Sleeve Tee. Enveloped in the soft folds of this alt goth long sleeve top, find yourself at the intersection of celestial devotion and witchy elegance. Crafted for those who breathe the mystical, this tee is a sublime canvas where gothic style dances with a tapestry of intergalactic sorcery, narrating tales from beyond the starry abyss.
Summoning the Galactic Magic
On this wondrous fabric lies a potent spell—a witch's hand gracefully holds a wand, weaving the energies of the cosmos. "I'd move galaxies for you," it whispers, forging a connection that traverses the vast expanse of space and time. Each thread is imbued with a saga of pagan allure and occult fashion, making it a talisman of cosmic proportions, embracing your soul with its alternative style.
A Tapestry of Mystique for Every Occasion
Embark on a journey draped in the 'Cosmic Devotion Tee,' a unisex tee that seamlessly intertwines leisurewear with the mystical allure of dark academia. Its witchy style is versatile enough for rock legends and pagan poets to sport on mythical journeys or casual encounters with the arcane. Be it a midnight seance or a day woven with spells, the Cosmic Devotion Tee invites you to embody the essence of witches' fashion in every moment.
Cosmic Qualities in Every Thread
100% Heavyweight Cotton, embodying earthly richness.

Unisex Fit, a universal embrace for all seekers of the mystique.

Soft Touch, caressing the senses with ethereal softness.
A Pledge to the Planet: Ethically Bewitched
Tread lightly on Mother Earth with this on-demand, eco-friendly sustainable product. Conjured with love and respect for our planet, Rogue + Wolf commits to sustainable fashion, creating a cruelty-free brand that resonates with the ethos of the conscious. Embrace a witchy alt style that celebrates not just the beauty of the occult, but also a heartfelt devotion to our cosmic home. #RogueAndWolf
Invoke the Magic of the Cosmic Devotion Tee
Dare to be the enchantment that stirs the cosmos? Dive into the realms of Rogue + Wolf, and let the Cosmic Devotion Tee unveil its tales on your skin. The Coven awaits your unique essence. Explore more, unveil the mysteries, and #JoinTheCoven of bewitching styles and ethereal comfort.
Product Measurements
The product measurements are taken when products are laid flat. Actual product measurements may vary by up to 2" (5 cm).
 
A Length (inches)
B Width (inches)
C Sleeve Length (inches)
S
28
18

33 ½

M
29
20
35
L
30
22
36

 ½

XL
31
24
38
2XL
32
26
39

 ½

3XL
33
28
39

 ½

4XL
34
30
40
 
A

 

Length

 

(cm)
B Width

 

(cm)
C Sleeve Length (cm)

S
71.1
45.7
85
M
73.7
50.8
89
L
76.2
55.9
92.7
XL
78.7
61
96.5
2XL
81.3
66
100.3
3XL
83.8
71.1
100.3
4XL
86.4
76.2
101.6
Body Measurements
A Length
Place the end of a measuring tape beside the collar at the top of the tee (high point shoulder). Pull the tape to the bottom of the shirt.
B Chest
Measure yourself around the fullest part of your chest. Keep the measuring tape horizontal.
C Sleeve length
Place the end of a measuring tape at the centre back of the collar, then pull the tape along the top seam of the sleeve. When you get to the shoulder hold the tape in place at the shoulder and continue to pull down the sleeve until you reach the hem of the sleeve.
| | | | |
| --- | --- | --- | --- |
| | A Length (inches) | B Chest (inches) | C Sleeve Length (inches) |
| S | 28 | 34 - 37 | 33 ½ |
| M | 29 | 38 - 41 | 35 |
| L | 30 | 42 - 45 | 36 ½ |
| XL | 31 | 46 - 49 | 38 |
| 2XL | 32 | 50 - 53 | 39 ½ |
| 3XL | 33 | 54 - 57 | 39 ½ |
| 4XL | 34 | 58 - 61 | 40 |
| | | | |
| --- | --- | --- | --- |
| | A Length (cm) | B Chest (cm) | C Sleeve Length (cm) |
| S | 71 | 86.4 - 94 | 85 |
| M | 73.7 | 96.5 - 104 | 89 |
| L | 76.2 | 106.7 - 114.3 | 92.7 |
| XL | 78.7 | 116.8 - 124.5 | 96.5 |
| 2XL | 81.3 | 127 - 134.6 | 100.3 |
| 3XL | 83.8 | 137.2 - 144.8 | 100.3 |
| 4XL | 86.4 | 147.3 - 155 | 101.6 |
In the mystical realm of Rogue + Wolf, we craft this precious treasure on-demand. This magical approach takes a touch longer, like the careful concoction of a powerful potion. But don't fret, darklings! This extra spell-casting time is offset as we send your order from a location near you - less wait for you, lower shipping costs, less pollution.

Choosing to create on demand, we avoid the wasteful cycle of overproduction typical of the fashion industry. No excess, no surplus, just the ethereal piece you desired, crafted specifically for you. This way, we not only reduce waste but also cut down on storage and transportation - a small yet significant step towards preserving our environment.

So, thank you, beautiful soul, for making conscious choices and joining us on this magical journey. Each order you place is a statement for a more sustainable, thoughtful world. Let's continue to change the game together, one enchanting piece at a time!
Read more about our On-Demand Odyssey here.
Delivery
We will ship your order super fast and we will make sure you get your goodies no matter what!

All orders of in-stock items placed before 13:00 UK time will be shipped on the same day. Orders placed after 13:00 will be shipped the next day. Weekends don't count for next day delivery.

All orders of on-demand items will be produced as close to your home as possible and then shipped to you.

For on-demand items, production times may vary. Shipping options and delivery estimates will be shown upon checkout.

Shipping will be automatically calculated for you before you checkout. Shipping cost is weight-based.

If both in-stock and on-demand products are in your cart, a combined shipping cost is shown without a delivery estimate. Add a single on-demand product and go to the checkout to see the delivery estimate.

We always resend any items lost or damaged in transit. We own up and deal with any mistakes we make (rare as they are ;) ) so we will fix, resend, and keep you all spoiled if anything bad happens, at no cost to you.

For shipments outside the UK, import duties and taxes may apply and you will be responsible for them.
Returns
Fill in the Returns form so your return can be processed quickly:

Return A Product Form

.

We accept returns within 60 days of delivery and products must be in "as new" condition.

We offer

FREE RETURNS in the UK

.

For international orders return shipping is on you, really sorry.

Make sure that pet products are

free of hair

or we won't be able to accept them!
For any more information or to arrange a return/exchange please
contact us
to set it up, it will be easy and painless! :)