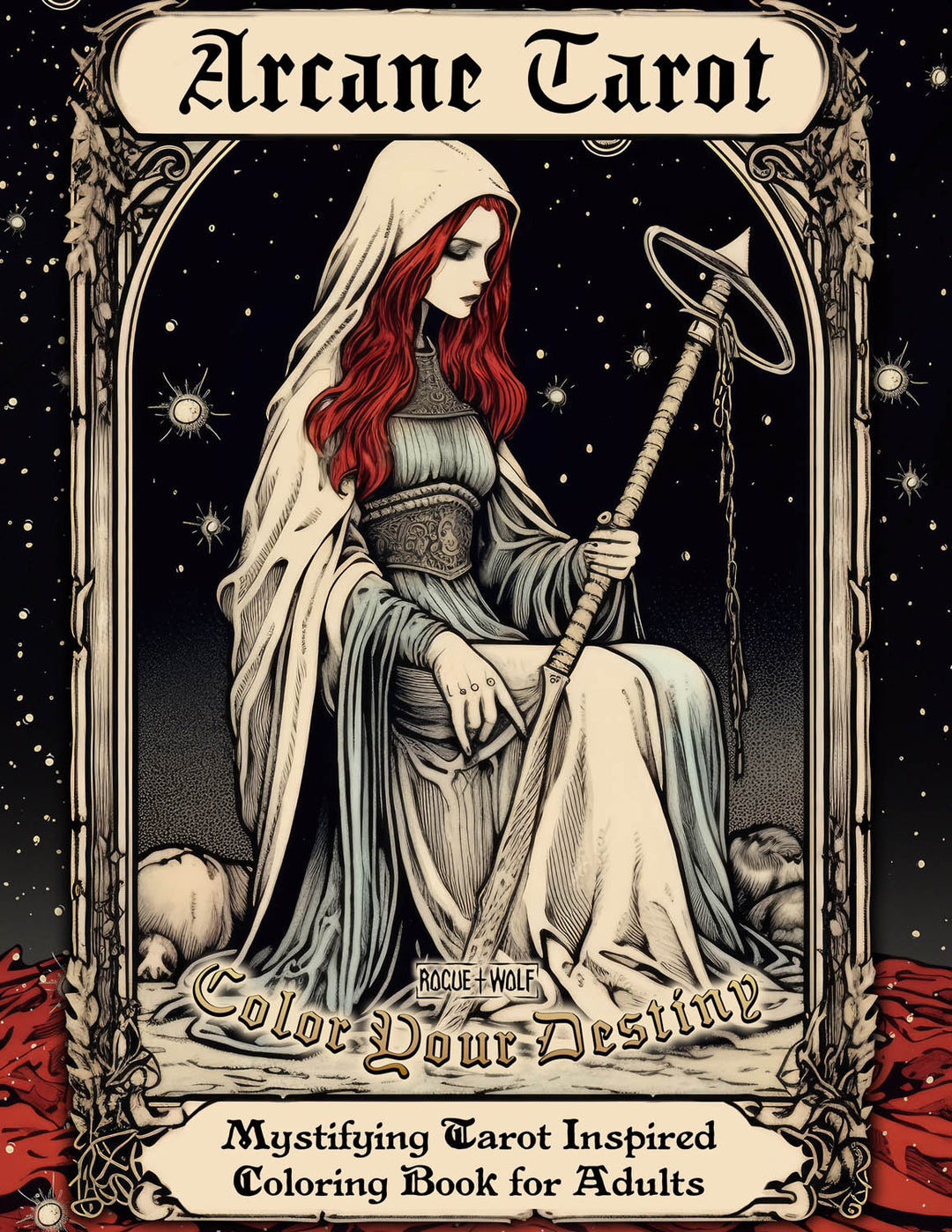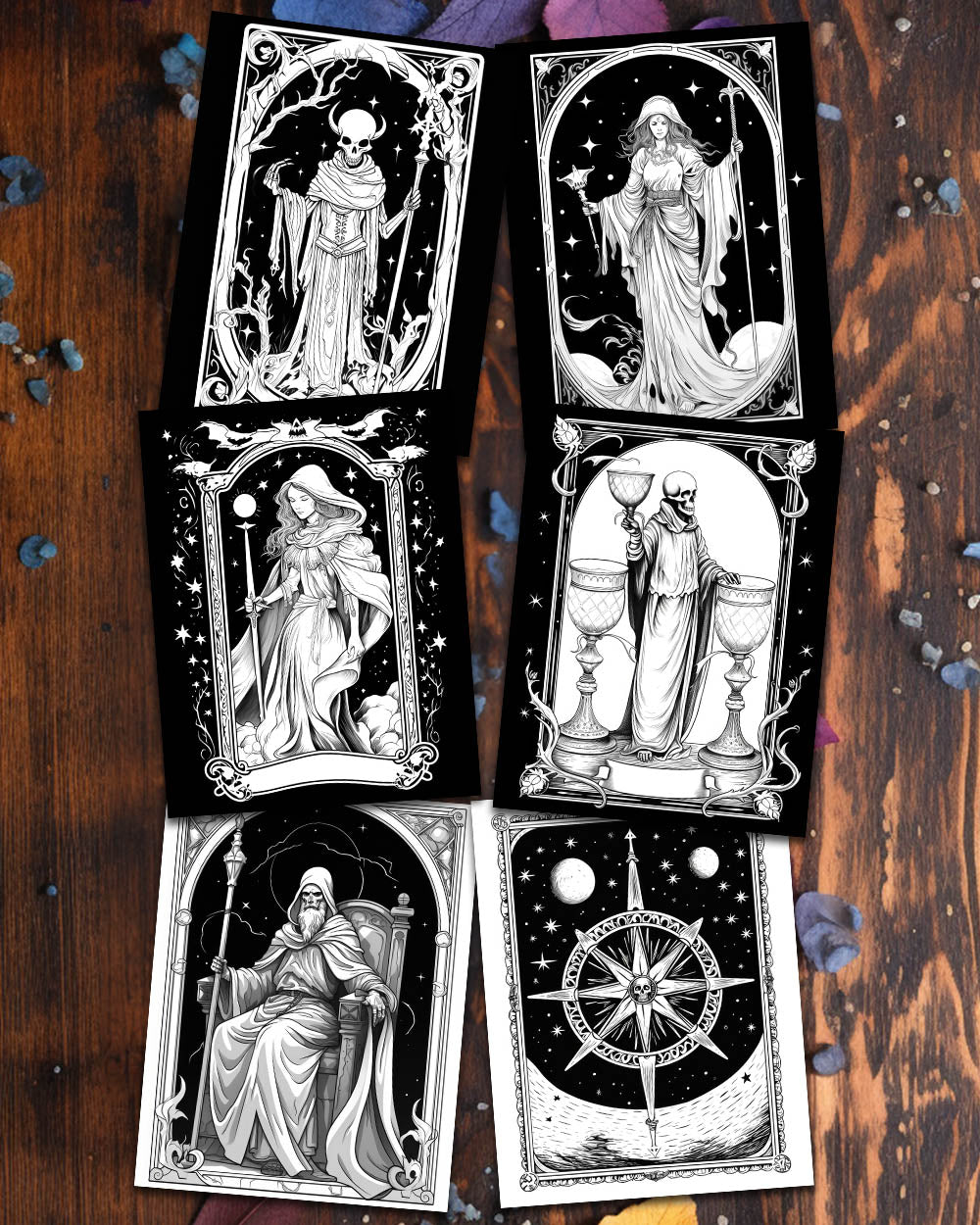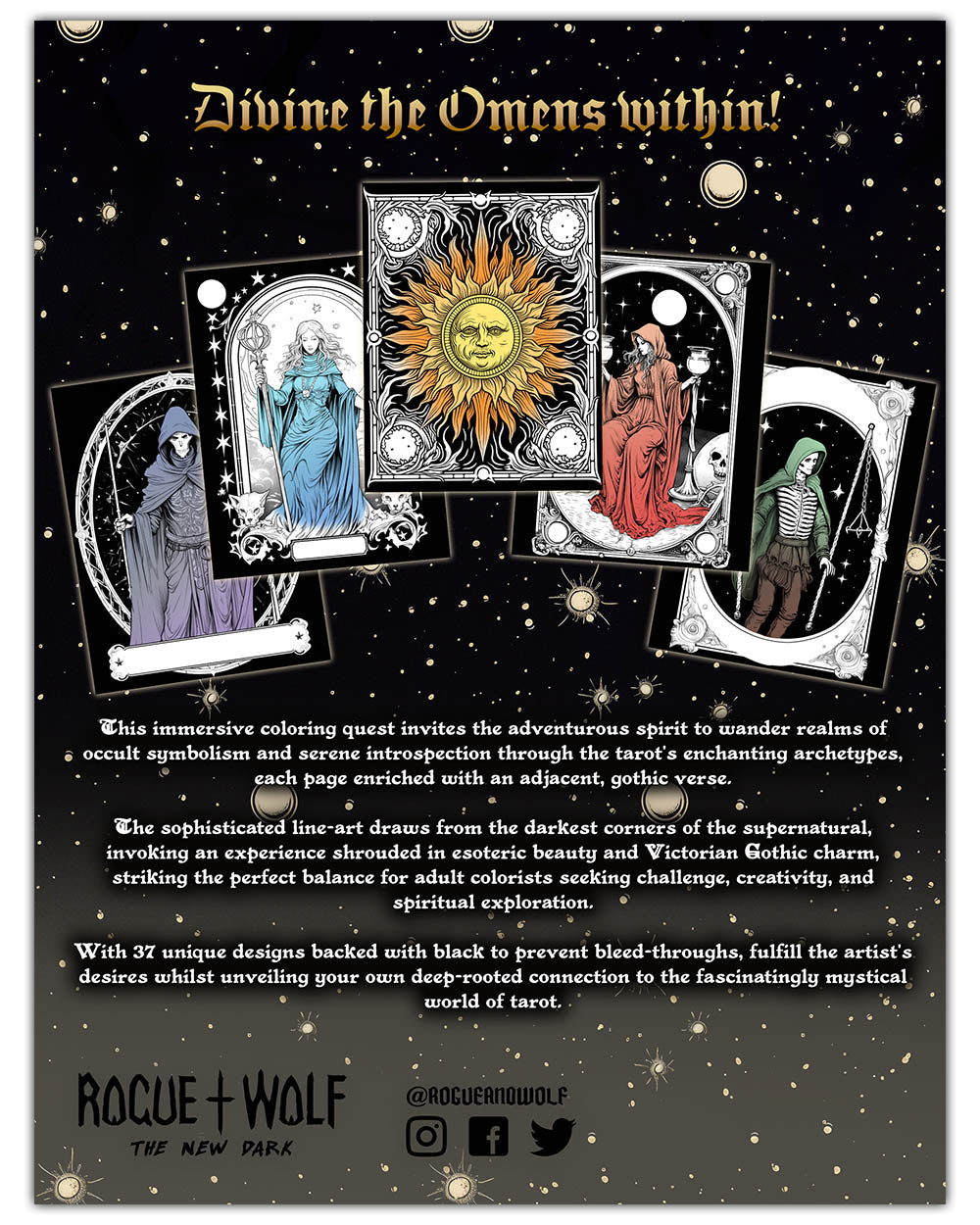 Arcane Tarot: A Mystifying Tarot Coloring Book for Adults with Victorian Inspired Poems
---
Printed on-demand by Amazon
Very fast printing and shipped from close to you!
Go to your nearest Amazon website and order directly.
Note: Price shown above is approximate due to currency exchange fluctuations.
Amazon.com  Amazon.co.uk  Amazon.de  Amazon.fr  Amazon.es  Amazon.it  Amazon.nl  Amazon.pl  Amazon.se  Amazon.co.jp  Amazon.ca  Amazon.com.au  
Arcane Adventure Awaits You
Descend into the mesmerizing realm of "Arcane Tarot: A Mystifying Tarot-Inspired Coloring Book for Adults with Victorian inspired Poems". This captivating collection boasts 37 enchanting pages, each adorned with the symbolic motifs of tarot and the dark mysteries of the occult, all ready to be infused with your unique palette. Each illustration in "Arcane Tarot" is enriched by a poetic gem, a short Victorian-inspired verse echoing the occult and the supernatural.
Ink Your Intuition: Esoteric Elegance Awaits in Every Stroke.
Dive deep into the shadows of witchy wonder and pagan prowess. Every illustration is an artistic escape, featuring the Major Arcana alongside iconic Minor Arcana cards such as the Ace of Swords and Queen of Cups. Accompanying these intricate designs, Victorian poetry whispers tales of each tarot's essence, embodying the blend of Medieval Aesthetic and Victorian romanticism. Perfect for lovers of Tarot reading, Victorian Poetry, Dark Academia, goth, & grunge aesthetic.🌙✨
Poetic Alchemy: Victorian Whispers Amidst the Lines
Beyond the intricate designs of the "Arcane Tarot" lies a whisper from the Victorian era – short, poignant poems that encapsulate the supernatural and occult essence of each card.  These poems delve into the essence and symbolism of each card, offering an added layer of immersion and understanding, helping the colorist connect more profoundly with the symbolism at hand. This unique fusion of evocative poetry with intricate coloring designs elevates your pastime experience, making it not just an artistic endeavor but a soulful journey through words, colors and the Occult. "Arcane Tarot" stands apart, offering a blend of recreation where artistry meets literary enchantment.
Healing Through Art: The Spiritual Escape
Coloring isn't just a leisure activity. Engage in a therapeutic ritual that not only satiates your aesthetic hunger but also grounds your spirit, alleviates stress, and enhances mindfulness. Mingle with the symbols of old, and let them guide your spirit to relaxation and rejuvenation. Each stroke helps alleviate ADHD symptoms, and for the mindful people of all ages, it's a portal to a realm where the Gothic, Fantasy, and the occult interlace, offering a relaxing anti-stress pastime.🔮
Designed with Precision
Measuring at a spacious 8.5" X 11", each page is crafted ensuring the utmost quality. To safeguard against those pesky color bleeds, the reverse of every art page is thoughtfully printed in black, ensuring your masterpieces remain perfect, every single time.
Expert Coloring Tips
For an optimal coloring experience, opt for gel pens or colored pencils. If using markers, placing an extra sheet behind the page you're coloring can further prevent potential bleed-through, ensuring that every dreamlike black line and grayscale image remains pristine.🎨
Embrace the Journey
Why wait? Dive into this fantasy art haven and let your inner artist roam free. Once enchanted by the Arcane Tarot, you'll find yourself drawn to explore even more of our unique, witchy range. Perfect as Halloween gifts or for those simply drawn to the cool Gothic gifts and mythical patterns we offer.
Join the Rogue + Wolf Coven
Once you've colored your mystical masterpieces, we'd be spellbound to see them! Engage with our bewitching brand and follow our story – because at Rogue + Wolf, you're not just buying a book, you're joining a lifestyle. Share your art and be a part of our enchanting tale. 💜🌙 #RogueAndWolf
In the mystical realm of Rogue + Wolf, we craft this precious treasure on-demand. This magical approach takes a touch longer, like the careful concoction of a powerful potion. But don't fret, darklings! This extra spell-casting time is offset as we send your order from a location near you - less wait for you, lower shipping costs, less pollution.

Choosing to create on demand, we avoid the wasteful cycle of overproduction typical of the fashion industry. No excess, no surplus, just the ethereal piece you desired, crafted specifically for you. This way, we not only reduce waste but also cut down on storage and transportation - a small yet significant step towards preserving our environment.

So, thank you, beautiful soul, for making conscious choices and joining us on this magical journey. Each order you place is a statement for a more sustainable, thoughtful world. Let's continue to change the game together, one enchanting piece at a time!
Read more about our On-Demand Odyssey here.