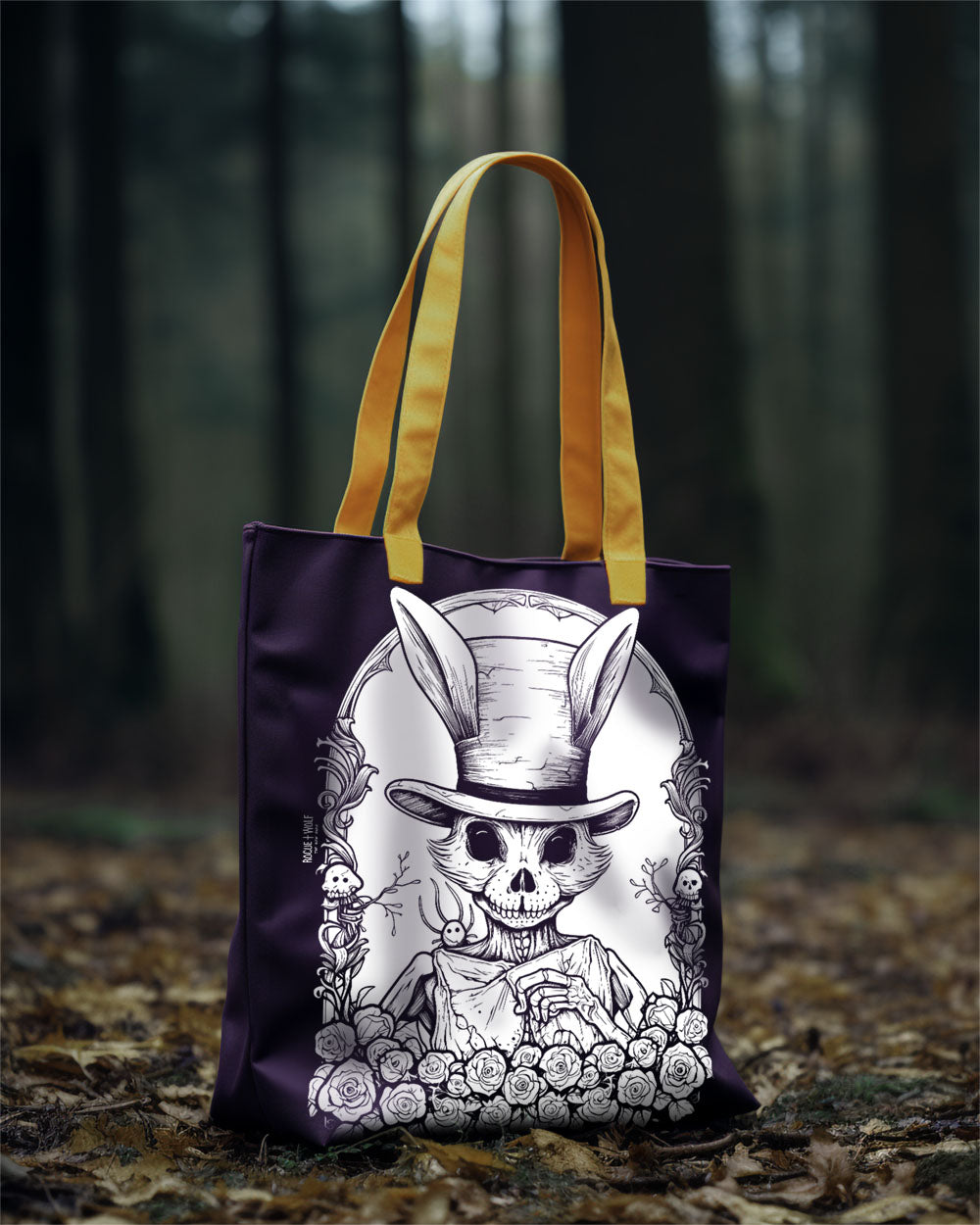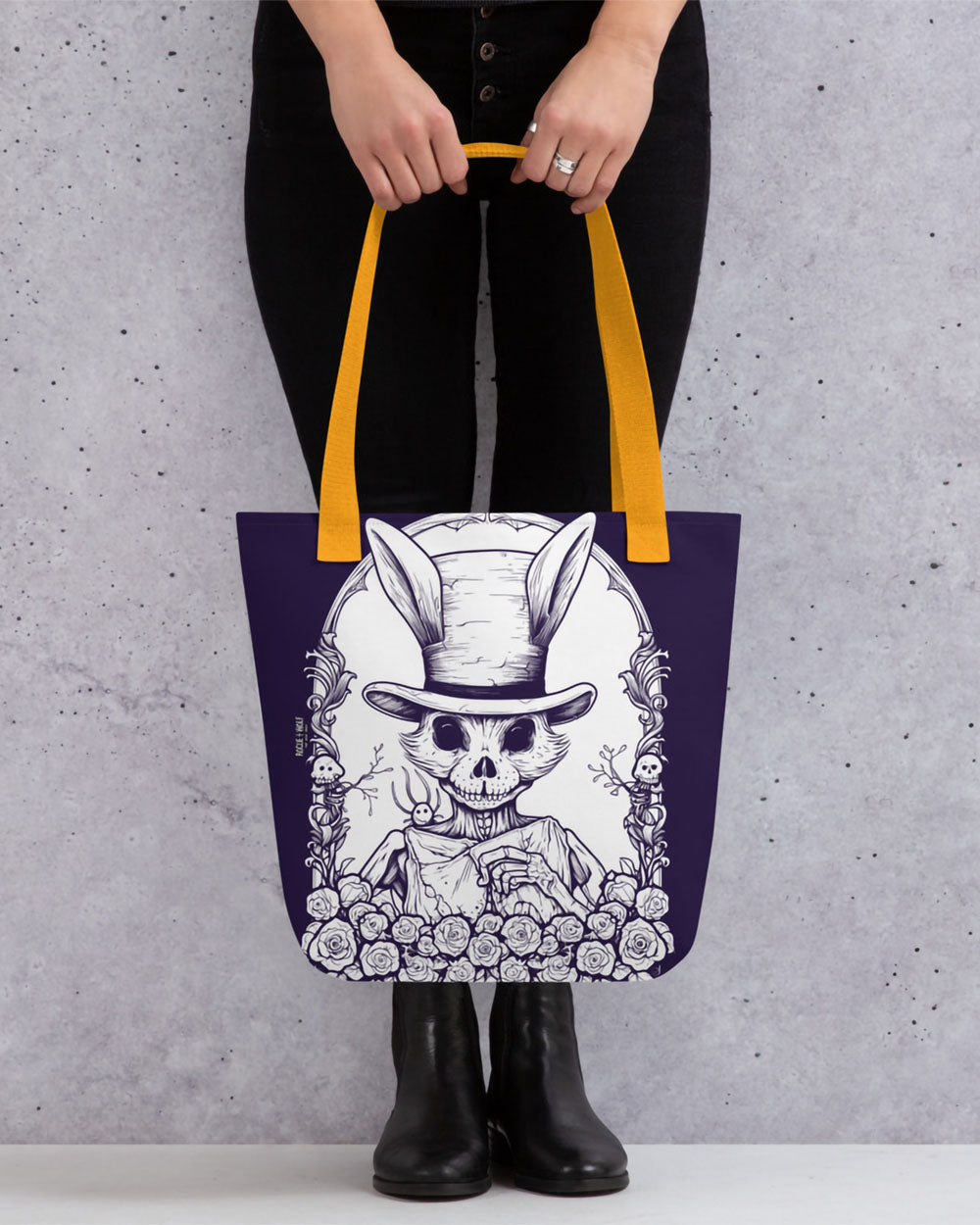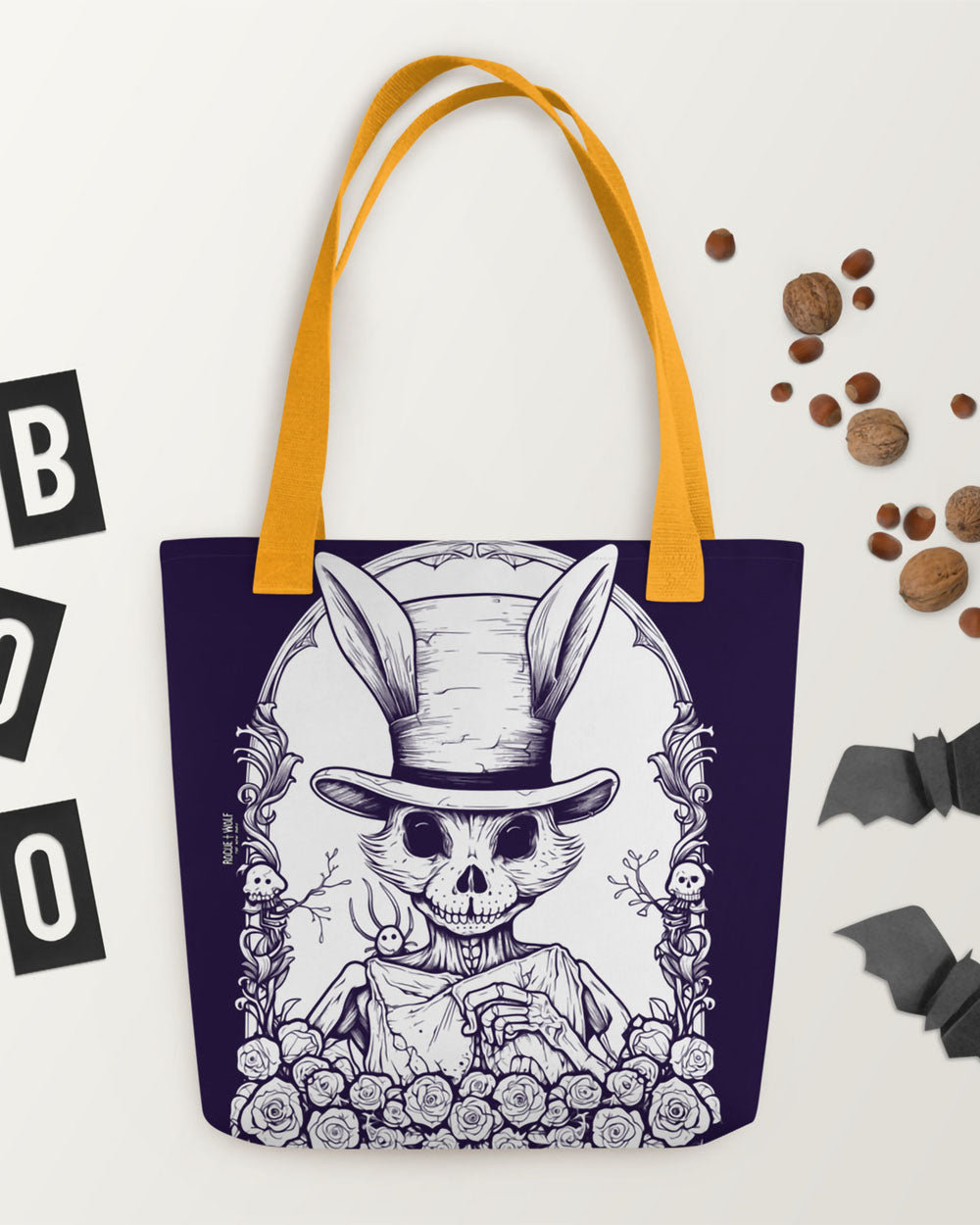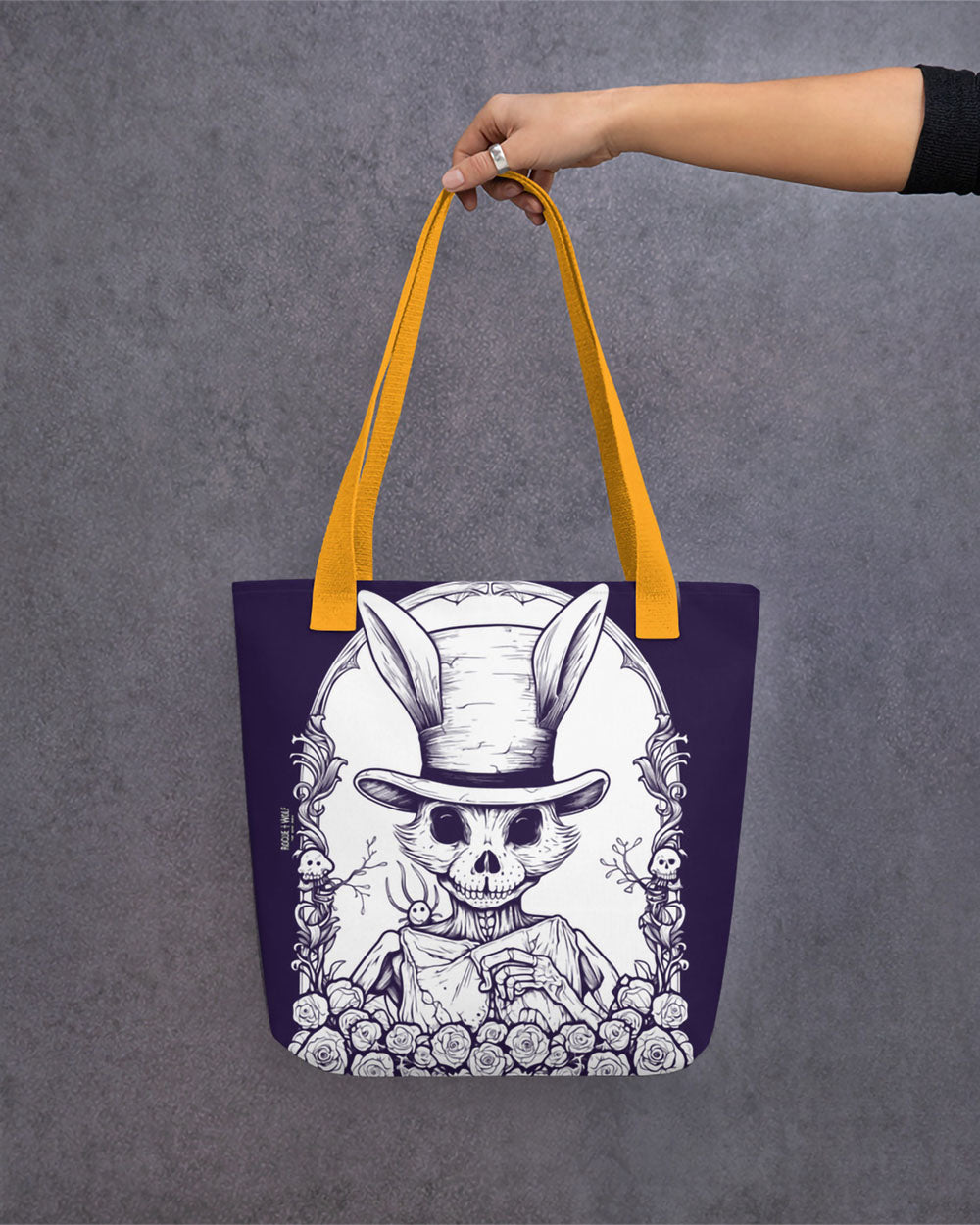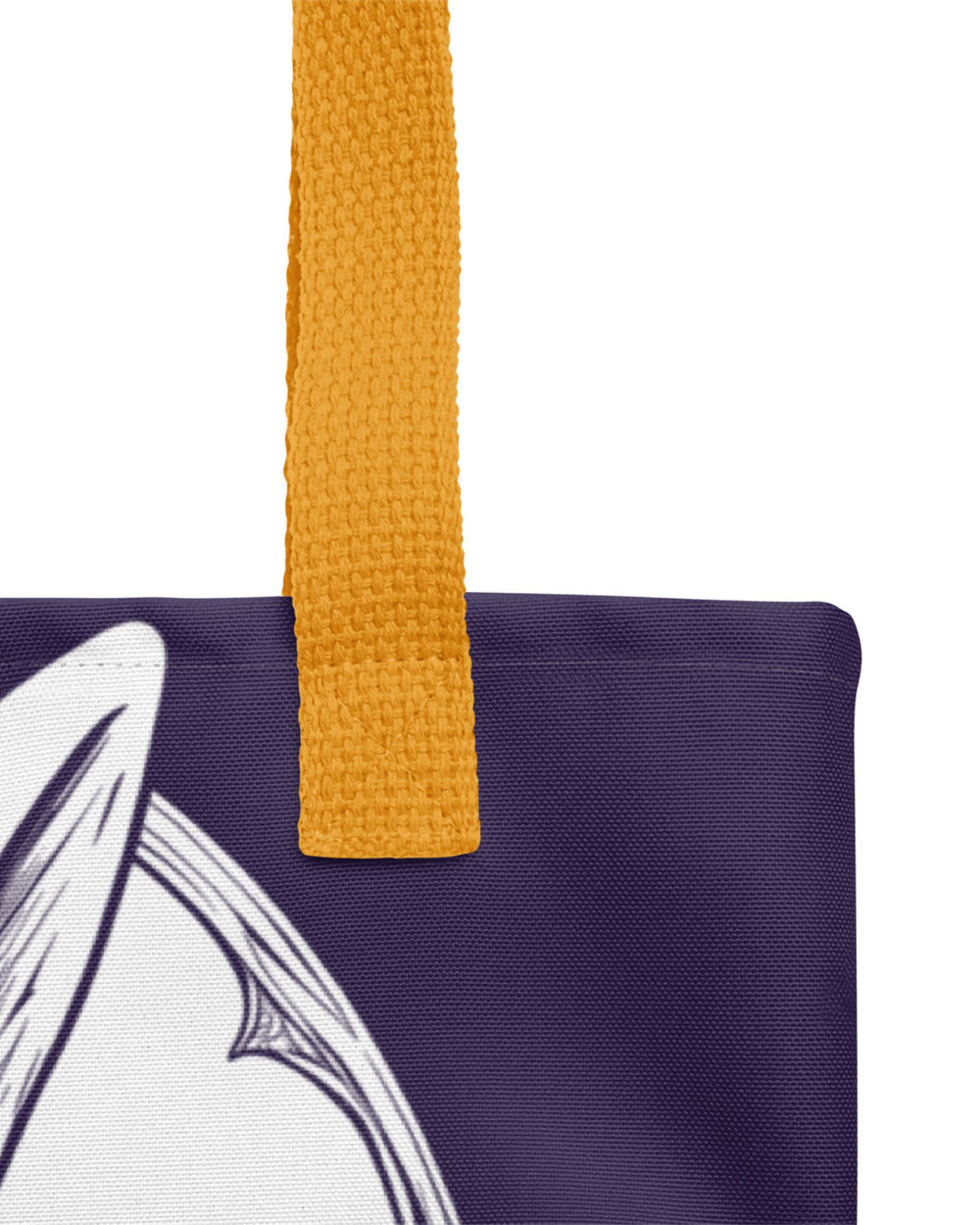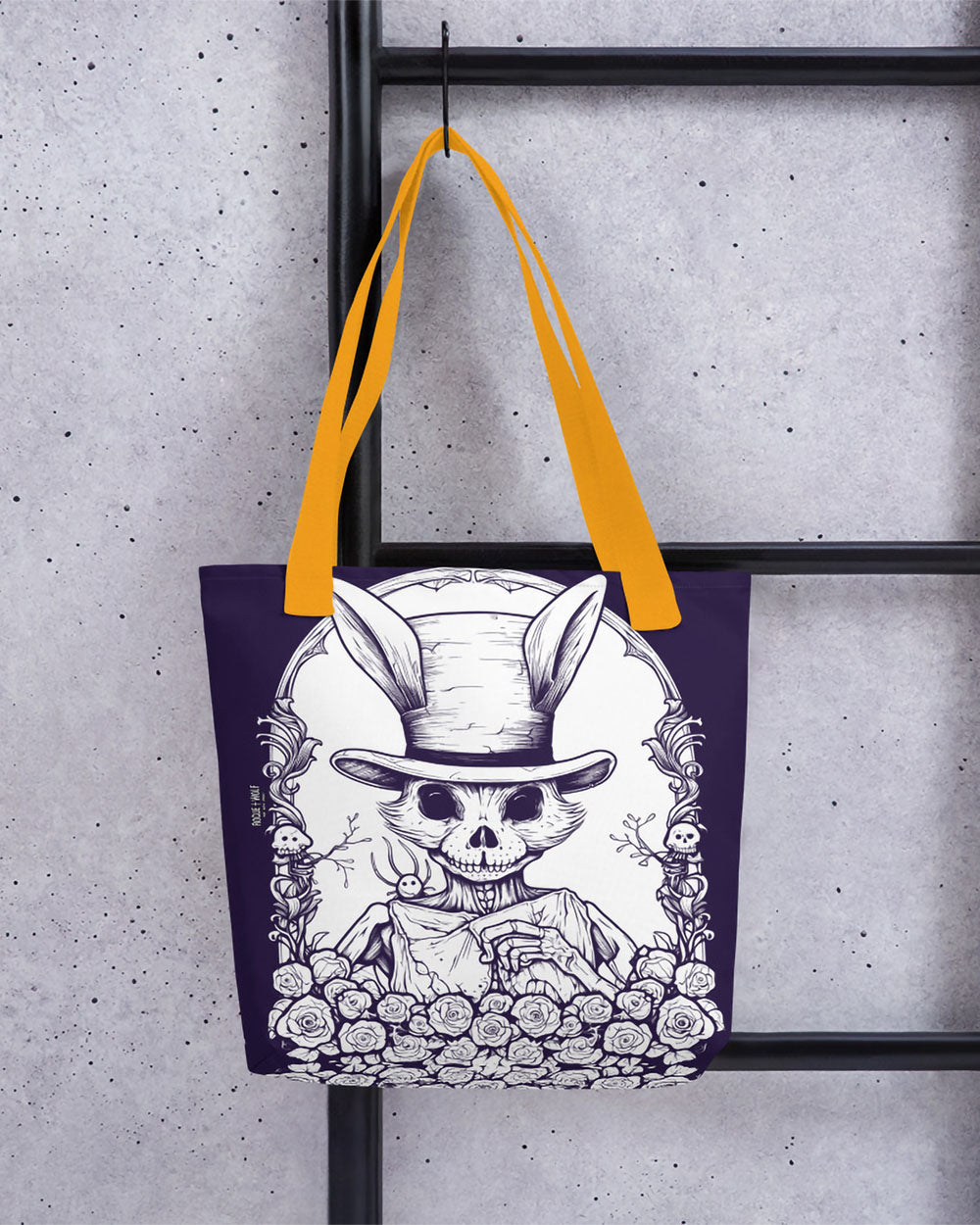 The White Rabbit Vegan Cotton Tote Bag - Goth Accessories Grunge Dark Academia Alt Witchy Fashion Halloween Gift
---
We are transparent with real reviews on all products. More than just that, we use your reviews as an opportunity to learn and improve our quality or fix our mistakes.
Dive into the Mystical Abyss with Rogue + Wolf
Goth and occult enthusiasts, hold onto your broomsticks because we've conjured up a tote bag that embodies the grunge aesthetic with an ethereal twist. Introducing The White Rabbit Tote Bag; a seamless blend of dark academia and witchy alt style that speaks volumes about your unique identity. Perfect for the curious souls who dare to embrace the unknown and are bold enough to walk the fine line between the everyday and the otherworldly.
Tales from Beyond the Veil: Artwork That Enchants
In the arcane world of Rogue + Wolf, the dead rabbit dons a top hat and becomes the keeper of secrets. Against a dusty violet backdrop, encircled by a hauntingly beautiful floral frame, this gothic art piece evokes stories of midnight rendezvous, forgotten spells, and whispered tales from the shadow realms. The next time someone asks about your tote, you can casually drop, "Oh, this? Just something I picked up from another dimension!"
More than Just a Statement, It's a Lifestyle
Imagine strutting into work, gym, or your local grocery store flaunting this Gothic gem. The White Rabbit Tote Bag isn't just a feast for the eyes; it's large and foldable, making it the perfect travel companion. Whether you're hunting for ancient grimoires or just grocery shopping, this bag ensures you do it in style. And with Halloween around the corner, this could be the spellbinding accessory you've been searching for. Who said you can't rock a spooky style all year round?
Crafted for the Modern Witch and Warlock
Material

: 100% spun polyester fabric

Handles

: 100% natural cotton bull denim

Bag size

: 15″ × 15″ (38.1 × 38.1 cm)

Capacity

: 2.6 US gal (10 l)

Maximum weight limit

: 44 lbs (20 kg)

Constructed to hold more than just your potions, spells, and cat - although, feel free to try fitting all three!
Sustainable Magic with Every Stitch
Every tote is produced on-demand, ensuring there's no wastage in our bid to keep Mother Earth as enchanting as ever. Aligning with the ethos of eco-friendly sustainable products, our Cotton Vegan Tote Bag for Women exemplifies ethical gothic fashion at its finest. Because here at Rogue + Wolf, we believe the only thing that should haunt us are ghosts, not our carbon footprint.
Join the Mystical Revolution #RogueAndWolf
Ready to take the plunge and #JoinTheCoven? Delve deeper into our realm and discover a treasure trove of gothic accessories, alt fashion, and more witchy wonders awaiting you. And always remember, The Coven doesn't just wear Rogue + Wolf; we live it. So, what are you waiting for? Your destiny is just a click away.
In the mystical realm of Rogue + Wolf, we craft this precious treasure on-demand. This magical approach takes a touch longer, like the careful concoction of a powerful potion. But don't fret, darklings! This extra spell-casting time is offset as we send your order from a location near you - less wait for you, lower shipping costs, less pollution.

Choosing to create on demand, we avoid the wasteful cycle of overproduction typical of the fashion industry. No excess, no surplus, just the ethereal piece you desired, crafted specifically for you. This way, we not only reduce waste but also cut down on storage and transportation - a small yet significant step towards preserving our environment.

So, thank you, beautiful soul, for making conscious choices and joining us on this magical journey. Each order you place is a statement for a more sustainable, thoughtful world. Let's continue to change the game together, one enchanting piece at a time!
Read more about our On-Demand Odyssey here.
Delivery
We will ship your order super fast and we will make sure you get your goodies no matter what!

All orders of in-stock items placed before 13:00 UK time will be shipped on the same day. Orders placed after 13:00 will be shipped the next day. Weekends don't count for next day delivery.

All orders of on-demand items will be produced as close to your home as possible and then shipped to you.

For on-demand items, production times may vary. Shipping options and delivery estimates will be shown upon checkout.

Shipping will be automatically calculated for you before you checkout. Shipping cost is weight-based.

If both in-stock and on-demand products are in your cart, a combined shipping cost is shown without a delivery estimate. Add a single on-demand product and go to the checkout to see the delivery estimate.

We always resend any items lost or damaged in transit. We own up and deal with any mistakes we make (rare as they are ;) ) so we will fix, resend, and keep you all spoiled if anything bad happens, at no cost to you.

For shipments outside the UK, import duties and taxes may apply and you will be responsible for them.
Returns
Fill in the Returns form so your return can be processed quickly:

Return A Product Form

.

We accept returns within 60 days of delivery and products must be in "as new" condition.

We offer

FREE RETURNS in the UK

.

For international orders return shipping is on you, really sorry.

Make sure that pet products are

free of hair

or we won't be able to accept them!
For any more information or to arrange a return/exchange please
contact us
to set it up, it will be easy and painless! :)